Today the Centers for Disease Control (CDC) released its report on the prevalence of autism in the United States. Here are the numbers: 1 in 68 children are on the autism spectrum. These are the numbers further broken down by gender: 1 in 42 boys and 1 in 189 girls. These numbers are based on 2010 data. When will we get more recent numbers? This is 2014.
Many people are wondering why autism numbers are rising. Many people are also wondering when the Diagnostic and Statistical Manual (DSM) revisions will impact these autism numbers. I know I have no reason to wonder if 1 in 68 will  change my reality because it does not.
As the parent of a child on the autism spectrum, my focus is on support for autism families. This CDC report is great for the news cycle, especially with Autism Awareness Month around the corner. However when the media frenzy subsides, I will still have questions like did I last year.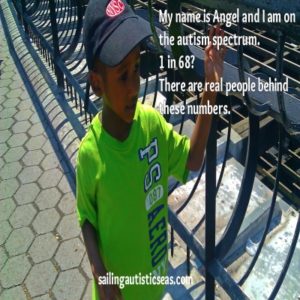 So here we go:
When will more families be able to get autism insurance coverage? According to Autism Speaks, as of February 2014 only 34 states plus Washington, D.C. passed Autism Insurance Reform Laws. We need to do better. I know that families still have to deal with insurance companies using loopholes to avoid covering much needed services and care.
What are we doing about wandering? According to the National Autism Association as of 2011, 45 individuals with autism died as a result of wandering. This number includes deaths that were not reported to the media. Although the Justice Department agreed to fund tracking devices under

Avonte's Law

, parents are still confused about how it will be implemented. We still wonder how can we keep our children safe.
What is really being done to reduce the disparity in autism diagnoses among minorities? Every year we hear about studies highlighting how

black and Hispanic children

are diagnosed much later than white children. We need more programs put in place to increase early detection and to reduce the stigma surrounding autism and other developmental disabilities.
How can families get more support for their loved ones on the autism spectrum? The red tape that families have to cut through to get help can be overwhelming. Families need help getting services and financial support. Families need

help navigating the special education

maze, which can be very expensive, intimidating, and complicated. Families need resources for adults with autism who have aged out of the school system.
When will we realize that once we become aware of autism, the next step is a movement toward acceptance?  No further explanation is needed on this one. Just think about it.
Read the full report here below. 
What do you think of the new CDC report? What questions can you add to my list? Share your thoughts in the comments. I look forward to hearing from you.
Sincerely,
Miz Kp