(Today's Guest Post is written by Allison who was a nanny for several years for a child with special needs.)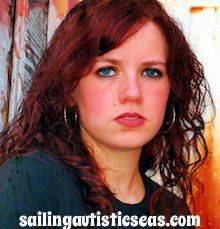 Many of the same concepts for providing care for a child with special needs are similar to those who are typical. You want someone that is going to care for your child whether they have special requirements or not. The difference is, the person you are hiring needs to know how to adapt to those requirements.
Even varying levels of ADHD can make for a stressful situation if your nanny doesn't know how to adapt. In the event of my oldest son, he can cause a great deal of damage to himself and his environment in a very short amount of time. What are a few attributes that make for an excellent nanny for your child with special needs?
1. Experience - Like everything in life, experience can be greatly beneficial to any task. However, experience goes beyond caring for children when dealing with one who has specific requirements. The candidate needs to have a certain level of expertise dealing with children with that specific set of requirements. As in my case, I needed a nanny that could handle a child that had an extensive background in ADHD. Everything from the foods he eats to the onset of mood swings, our nanny needs to know how to interact with such a severe case.
2. Education - Although learning how to adapt to certain aspects of special needs children can be quite beneficial, it's a completely different set of circumstances when it comes to real life. Not only is it beneficial for your nanny to have background education pertaining to child development in your specific need, but he or she would have to be able to adapt quickly. Children are as much of individuals as adults and each will have their own quirk. Although education can be a great base to start from, it's the handling of your specific child that is going to determine success.
3. Directions - Your nanny needs to understand why certain implementations are in effect for your child. He or she needs to be able to follow your directions as you know your child better than your candidate does. As in my case with my son, certain stimuli tends to charge his hyperactivity to extreme levels. Movies that have a great deal of action can fuel his levels and I've had to replace many walls and windows because of his re-enacting of those scenes. Mind you, these are movies with action – not violence. He can re-enact scenes from Disney movies that can leave his room in shambles. The only way we are able to watch movies of this kind is by doing something physical afterwards. This could entail going to the park, playing in the yard, riding bicycles and anything else we can think of to burn that energy. He needs to be "defused," and the nanny needs to follow our directions about such.
Aside from a clean background check, these are the top qualities we look for in a nanny. We are always open to suggestions from our nanny if they believe there is a better way to do something, but it's ultimately our choice to implement such plans. In some cases, we've found some common ground for improvement. While our nanny has the experience and education to find better ways, we've raised our child from birth and know his limitations better than anyone.
More About Allison
Blogging for was a natural progression for Allison once she graduated from college, as it allowed her to combine her two passions: writing and children. She has enjoyed furthering her writing career with her Web site, http://www.nannyclassifieds.com/blog/. She can be in touch through e-mail allisonDOTnannyclassifiedsATgmail rest you know.
Thanks to Allison for sharing these tips with us.
Do you have a nanny for your child with special needs? What do you look for when searching for a nanny? Share your thoughts and experiences in the comments.
Sincerely,
Miz Kp
Comments
comments