Cheryl Ocampo from Queens, NY believes that her 10-year old daughter deserves to travel on a school bus that is climate-controlled with dual air conditioning. Sadly, for the past four years this has not always been the case.
Ocampo's daughter has often come off the mini-school bus overheated, lethargic, and sweating profusely. Her daughter has also had to travel on a bus with no heat when the winter temperature was 20-degrees. "The only reason I found out is because my daughter's bus para alerted me, which makes me wonder about the other kids who can not communicate," Ocampo said.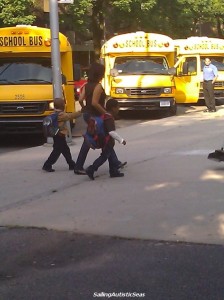 Ocampo's daughter is diagnosed with PDD-NOS (autism) and she has a school bus paraprofessional who travels with her on the bus. This bus is supposed to be climate controlled, which means it should be well-heated in the winter and cool during the summer. Body temperature regulation is an issue for some children on the autism spectrum, so this exacerbates the problem.
Ocampo has mentioned her concerns to her daughter's bus driver. She was advised to file a complaint with the New York City Department of Education's Office for Pupil Transportation (OPT). She has complained to her daughter's school, District 75 P993@P499 and they also told her to file a complaint with OPT. She and other parents have followed procedure and filed numerous complaints with OPT. The response they often get is: "We are looking into it."
Ocampo told me that she has e-mail paper trails and a contact in her district at the Committee on Special Education (CSE) who she has been working with. Any solution to the problem has been short term. As a result, she often has to go through the same process the following year.
A similar story was reported in the New York Daily News in 2011, so this problem is not new but every case is important and needs to be promptly resolved with long-term solutions.
Anyone who owns a car or rides public transportation expects to travel in a comfortable environment. I am sure that Chancellor Walcott does not travel in 90-degree weather with no air conditioning. Why are our children been subjected to these conditions?
This year Ocampo has decided to take a different approach to a recurring problem. She started the online petition: Mandate NYC Public School Buses to be Climate Controlled for Students with Disabilities.
Occampo wants to gain the support of the New York City Council and she is asking them to help "modify the New York City Administrative Code; Title 19: Transportation; Chapter 6: School Bus Service; 19-605, Air conditioning. Ocampo wants this code to specify that students with disabilities in a twelve-month program travel in motor vehicles that maintain a comfortable internal temperature especially during the months of July and August. She is also asking that these vehicles "are inspected for functional and sufficient air conditioning prior to the commencement of the route for the summer."
At the time that this post was published, Ocampo had collected 85 signatures and her goal is to get 5,000.  She is a long way from her goal but she has not given up.
So let us trace this situation back to the DOE. In order to understand how the DOE plans to allocate funds for pupil transportation in the coming fiscal year, I did some digging and came across the proposed DOE budget for fiscal year 2013.
This proposed budged indicates that the DOE is planning to allot $1,132,163 million to pupil transportation. This shows an increase of $52, 403 from the previous year. So how much of these funds will special education students get for door- to-door busing? $804,914 of the $1,132,163 million is being allocated for special education pupil transportation. This is a $32,296 increase from the previous fiscal year. (Visit pages 26 and 27 of the linked document  for more details.) I have to ask: Where does the money go? Where exactly will it go?
Where does the school bus company union Local 1181 fit in all of this? The relationship between the DOE and the school bus company union has been contentious over the last few years. There were threats of a school bus strike last November and another threat for a strike this past June.
This information leads me to ask the following questions: How much is the DOE paying these bus companies? Who is in charge of oversight? How often are these buses inspected? What penalties are in place when regulations are violated?
Who do we hold accountable? The bus companies? Local 1181? Mayor Bloomberg? Chancellor Walcott? Governor Cuomo? Senators Schumer and Gillibrand?  Like Occampo said, "It is such a sad situation. It really is."
In the mean time, please sign the petition and spread the word.
Is your child in a 12-month special education school program? What are the conditions on your child's school bus? Please share your story. I look forward to hearing from you.
Sincerely,
MizKp
Comments
comments