I am Miz Kp, the creator of Sailing Autistic Seas. The soul of this blog is my 5-year old son, who I will refer to as "Angel."  Angel is on the autism spectrum. It took me a while to be able to say that out loud or even write it. Well, there it is!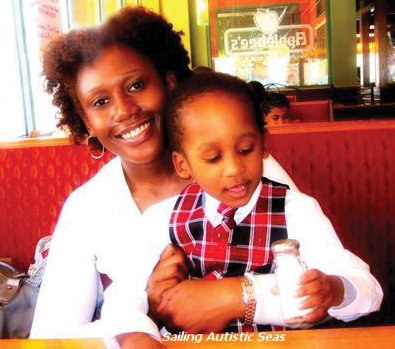 I work full-time, and sometimes overtime, developing content for elementary school textbooks. However, my passion is learning everything that I can about autism and sharing what I know with others. No one knows why 1 in 88 children are on the autism spectrum but we do know the huge impact it can have on families. I know the impact it has had on my family and I am not just talking money.
I often wonder what Angel's life will be like as he grows older. Will he go to college? Will he have friends? Will I be able to have conversations with him about life and love and the future? With an autism diagnosis, I have no clue. To be honest, even without a diagnosis, I would probably have no clue.
I know in my heart that autism is not a life sentence. Angel is still my son and I love him dearly. Our lives revolve around him. He is being raised by two parents who adore him and he is still the lovable child that he was before we got his diagnosis. He is not a label. We will focus on his strengths and do our best to help him work through his weaknesses. He may not be able to spontaneously say: I love you, Mummy but I know that he does when he comes up to me and kisses me on my cheek.
I have a special place in my heart for families with children on the autism spectrum because I can empathize with what you face each day. I know what it is like to fight to get services, the endless meetings with school districts, reading those evaluations, trying to interpret what our children mean when they don't have the words to speak, spending thousands of dollars because services are not covered, hoping we are making the right decisions… I could go on.
I created this Web site because I believe that it will give me an opportunity to share my experiences with other parents who have children with special needs. I believe that parents learn best when we can share what we know and ask each other questions.
I will use this Web site to keep you informed. I will use this Web site to keep you enlightened. I will use this Web site to share our journey and to share what it is like to raise a son with autism.
Some days you may need a life jacket to sail with us and other days it will be smooth sailing. At all times, it will be about Angel's journey.
Sincerely,
Miz Kp