My family made a lot of sacrifices to get me to school during the bus strike. On the day the strike began, I wondered why no one was getting me dressed for school. My mommy told me that the buses were on strike but I did not understand what that meant.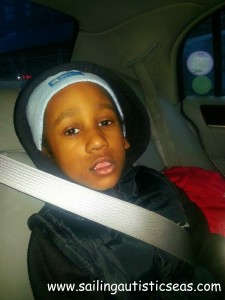 I admit that I had fun playing at home and getting into everything. No bottle of lotion went untouched. You probably would not understand, it is a sensory thing. I remember having a lot of homework during the strike when all I wanted to do was play until bedtime. There was this big folder full of work that my teacher gave to my mommy for me to finish at home.
As the strike continued, my mommy and daddy started to worry that I would forget some of the stuff I had learned in school. Mommy e-mailed my teacher and asked her what would be the two best days to bring me to school. My teacher said Tuesdays and Thursdays, since those were the days I had most of my therapy sessions. Both of my parents work, so they had to make a tough choice about when  I would go to school.
I cried for 15 minutes when my mommy finally took me to school. I was sad that she was leaving me.  Once I got used to being in my classroom again, I was okay.
Did you know that my mommy started a petition asking our Mayor to end the strike? Only 156  people signed it but I am thankful to everyone who did. It shows that they cared about me and other children like me. Many children including those with autism and other special needs missed school during the strike.
You are probably wondering how I felt about riding in a cab to school. I enjoyed riding with my mommy. She always had juice, grapes, and oranges for me to snack on during the cab ride. I even got to eat a chocolate heart on Valentine's Day. Usually when I am on the school bus, I do not get any snacks.
Whenever I got in the cab, I always said "push it." This was my way of asking my mommy to put on my seat belt.  We got caught in traffic a lot. I did not like being in the cab on those days. I got to ride with my daddy once during the strike and once with my Grandnana, too.  Most of the cab drivers were nice but there was one cab driver who was not very nice.  Some of them called me "baby" but I am not a baby, I am a big boy.
Did you know that it cost my mommy and daddy $152.00 a day to get me to and from school?
During the last week of the strike, my mommy was able to get a car service voucher so she would not have to pay for the cab ride with her credit card. This was a big help because she is still waiting for the Department of Education to pay her back for the cab rides we had already taken.
The Wednesday before the strike ended, a replacement driver lady called my mom at 9:25pm to say that she was coming to pick me up the next morning. Whoa!! My mommy was caught off guard, so she and my daddy decided to have me continue with the cab since our voucher ended on Friday anyway. I had no idea who this replacement driver was. I am sure she is nice though. My grandpa had a great idea. He wanted my mommy or daddy to ride with me on the bus if we got a replacement driver. You know, to make sure I was comfortable and safe.
Then on Friday the strike ended!
I am returning to school this Wednesday.  I wonder if I will have the same bus driver and matron. I hope so. My driver called my mommy on Saturday. He told her that he does not know if he will be the one coming to get me. He said he won't know until he goes to work on Wednesday. All I can do is hope. I know some of the drivers and matrons are mad that the strike ended. I am glad that it is over.
I do not know who is coming to pick me up for school but I know I will finally get to ride the bus again. I know that my mommy will not lose her job because she had to change her work schedule to get me to school. I know that now life can return to normal. Whatever normal is!
**Thanks to my mommy for helping me write this post.***
Always,
Angel
UPDATE: Angel has the same bus driver and matron. YAY!