Angel was a very quiet baby. Now he is a very hyperactive little boy who is NOT on medication. We are ALWAYS asked if  we would consider it. We are not there yet. It has also been suggested by various school personnel that Angel may have ADHD.  I am thinking Autism and ADHD? Wow!
We have had difficulties getting Angel enrolled in extra-curricular activities because of his hyperactivity. He never made it past the trials for martial arts and music classes. These were classes geared toward children with special needs. When out in the street, we have to have a firm grip on Angel's hand because he bolts and has little to no awareness of danger.
Angel's behavior does impede his academic progress. This is the reason why I had his school psychologist do a Functional Behavioral Assessment (FBA) on him and use it to create his Behavior Intervention Plan (BIP). For some reason during the FBA phase, Angel sat still and paid attention whenever the school psychologist was in his classroom. His teacher and I decided that she should record him in action, so we can see what the school psychologist suggests and amend his BIP.
Angel is in an 8:1:4 classroom with children who are all on the autism spectrum. Their levels of functioning vary. Each child gets 1:1 instruction on a typical school day. Angel is the child who requires 2:1 instruction. This means he has to have the head teacher and an aide working with him in order for him to get through his school work. Even with the extra reinforcement, Angel requires constant redirection. The interesting thing is that there are two aides who he responds well to. All they have to do is sit near him or tell him to sit and he listens.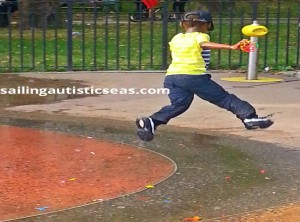 I am aware that Angel has great sensory issues, including vestibular and proprioceptive. The challenge is reconciling his sensory needs with his behavioral issues in the classroom and at home.
During my last parent conference with Angel's teacher, I got to observe him in action. He was ALL over the place. His teacher and I had a very frank discussion about his progress and behavior. Based on our conversation and my own observations of Angel, this is my action plan for the next few weeks:
Speak to his school psychologist about my concerns and find out what she thinks of the recording of Angel in the classroom. Then, get some recommendations in writing.
Meet with the psychologist who conducted Angel's most recent psychological evaluation that we had done for his

Medicaid Waiver

application. (My goal here is to get a written document with classroom intervention suggestions that can be incorporated into Angel's IEP. I will also find out if the psychologist thinks Angel could have ADHD and if he needs further evaluation. Basically, I am trying to get data to determine if his current school placement is the right one. If this is the right school for him, then this information will help him in the classroom and his overall development. If it is not, then I will put on my cape and the battle begins.)
Use all of the information I have gathered to request a reconvene IEP meeting with CSE.
Wish me luck. The next few weeks will be interesting. Depending on the information I gather, we will decide on if we will keep our appointment to have Angel evaluated for ADHD or if we will postpone.
I just know they will want to medicate him and that is not something we are ready for.
Does your child have another diagnosis besides autism? How have you been able to handle the two? What is your child's behavior like in the classroom and at home? Please share your thoughts in the comments.
Sincerely,
Miz Kp