Welcome to my Autism Awareness Parent Interview Series! I will interview a minimum of two parents per month. During these interviews, we will cover a specific theme regarding autism awareness. Our theme this week is Autism Awareness: Advocating For My Child.
I present to you Mrs. K, mom to six-year old Aiden who likes to march to his own drum (but definitely does not mean he is any less). Mrs. K works in the education field and holds degrees in psychology and education administration but she also has a passion and interest in law.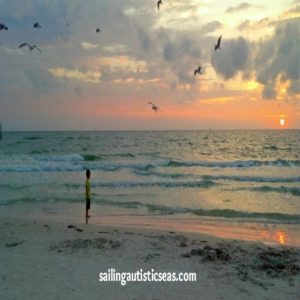 What is the first thing that comes to your mind when you think of autism awareness?
The first thing that comes to my mind when I think of autism awareness is educating people that not every disability is visible. Children with invisible disabilities are too often misjudged for rude, disrespectful and out of control. Parents of children with invisible disabilities are often viewed as not caring, who don't know how to discipline their children. I wish there was more sensitivity in people.
How old was your child when he/she was diagnosed with autism? How old is your child now?
Aiden was diagnosed around a year ago and he is six-years old now.
How important is it to you to advocate for your child?  Why?
Whenever I see any red flags I put my advocate hat on and address them for a very simple reason: I like seeing Aiden happy.
Do you find yourself having to advocate often for your child to receive a free and appropriate education? Give a brief explanation. 
I am afraid to say this not to jinx it, but so far this year has been good. All the services are implemented and I see progress. Last year was a different story. It felt like I spent the entire year reading regulations, rules, and descriptions of available services. Then contacting the school, the district, the chancellor, the state, and DOE office in D.C. It was tough and I lived and breathe advocacy last year. So far, we are happy with the way things are going this year.
Do you find yourself having to advocate often for your child to get entitlement services, such as the Medicaid waiver, ABA therapy, or additional services outside of school? Give a brief explanation. 
This is something new to us as we are just starting with the Medicaid waiver process. Being an optimist, I am only hoping that the process will be easier than advocating for FAPE.
What is your tried and true strategy that you use to advocate as a parent?
Someone long time ago told me "when you hear "no," you start looking into regulations." This has been very true for me. Last year, I spent sleepless nights reading, highlighting, making notes then calling and e-mailing. The regulations that we have in place to assist our children with disabilities are good, but you have to know them. Also, I keep dated notes from every meeting and conversation I have about my son.
Name four words that come to mind when you think of parental advocacy. Give a brief description of why you chose each word.
You have to have PATIENCE to do this as things don't change overnight.
You have to be PERSISTENT as often times you will hear "no" and see doors closing right in front of you.
You have to know what the REGULATIONS state (the law IS on your child's side).
Remember why you are doing this-LOVE for your child.
Any advice on how parents can advocate for their children?
I can't stress this enough but you must know your children's' rights and you have to know your rights as a parent. Don't be afraid to ask to be part of every meeting there is about your child. Don't be afraid to ask for all paperwork there is about your child. Don't be afraid to speak up and address any concerns you have. Seek assistance from parent advocates or seek legal advice if needed. Stay calm.
Is there anything else you would like to add?
Please don't let others tell you who your child is or isn't and what he/she is capable of doing or not doing. I see too many parents doing something against their wishes because "the school told me." It is wonderful and important to have good communication with your child's school and therapists but if something does not seem right for your child, most likely it isn't.
Thank you Mrs. K  for sharing your thoughts with us.
How do you advocate for your child? Have you ever used the services of a special needs advocate?
Share your story and please show your support for Mrs. K. in the comments. Please stay tuned for our next interview in December.

Sincerely,
Miz Kp