Welcome to another entry in my Autism Awareness Parent Interview Series! My goal is to interview two parents per month. During these interviews, we will cover a different theme regarding autism awareness. Our theme this week is Autism Awareness and Potty Training .
This week I present to you Jenny mom to three and a half year old Nat.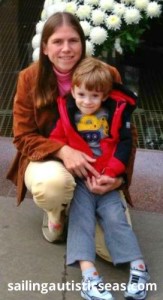 What is the first thing that comes to your mind when you think of autism awareness?
There really isn't as much awareness out there as it may seem –unless you personally know someone well who is Autistic or who is a close relative/parent of someone Autistic, then your chances of really knowing much about it are pretty slim. I wasn't all that aware before I was a parent of someone Autistic. Many in the Autism community speak of Autism Acceptance – I want that too and I don't think it needs to mean something separate.
How old was your child when he was diagnosed with autism?
He was just over two when he was diagnosed.
How old is your child now?
He's almost three and a half now.
Is your child potty trained?
No
What have been some of the challenges you have faced in getting your child potty trained?
When we started, we worked on getting him used to the idea of sitting on it & tried to make it seem fun. Initially, he was really enthusiastic about it. But he never actually eliminated in the potty. A few times, he'd suddenly urgently want to get off of it & would pee as soon as his diaper was back on. He lost interest eventually at home, but started using it at school, where he does urinate in the potty (though he still wets his diapers just as much). He does not want to use it at home. Even when he knows he has to go (he's very clear about when he has #2 coming on), he is vehemently opposed to getting on the potty.
What impact has your child's autism diagnosis had on his ability to be potty trained?
I'm not sure – he's my only child & he can't clearly express why. I would imagine that his anxiety & some sensory components are making it more difficult for him. He does not mind being wet (as long as we're not talking leaky diaper wet) or soiled – but I don't know for sure if that's related either.
Have you faced any stigma from others during this potty training phase? If so, how do you handle it?
I think there are those who think we're not firm enough – that we just need to sit him on the pot & he will deal. I mean, potty training is intimidating to me & it is hard to fit it into our lives, but I will be more than willing to, whenever my son wants to try again.
Do you use reinforcers to get your child to use the bathroom? Which ones have been the most successful?
For when he does want to sit on it, we cheer for him for sitting & cheer for him for when he's had enough, just for trying. There's a couple books we have that are potty related that he really enjoys to have us read to him – but because he's never actually eliminated in our presence while on the potty, we haven't been able to give a different reward for that. We'd probably just cheer like crazy, since he likes that.
What advice can you give to other parents who are facing what you are facing during your potty training journey?
I'm probably not the best advice giver on this – other than, don't let anybody pressure you. When your kid is ready, that's when it'll happen, or so I'm told.
Is there anything else you would like to add?
My world revolves around my beautiful son & awesome husband, but I also work full-time at an office. In my spare time, I like to consider myself a runner.
Thank you Jenny for sharing your thoughts with us.
You can find Jenny at:
Blog: Minute to Minute Mommy (Jenny describes it as: "My frequently neglected blog, still trying to find its way.")
Please show your support for Jenny in the comments and stay tuned for our interviews during the month of August.
Sincerely,
Miz Kp
Comments
comments