Welcome to my Autism Awareness Parent Interview Series! During these interviews, we will cover a specific theme regarding autism awareness. Our theme this week is Autism Awareness: Autism and Vaccines. 
Now I present to you Eddie who is the father of a wonderful six-year old boy named Donnivin.
Miz Kp: What is the first thing that comes to your mind when you think of autism awareness?
Eddie: There is not enough being done to spread awareness throughout the country.
Miz Kp: How old was your son when he was diagnosed with autism? How old is he now?
Eddie: He was about 22-months old. He is six-years old now.

Miz Kp: Did you vaccinate your son?
Eddie: Yes.

Miz Kp: Did you follow the regular vaccination schedule or did you alter it?
Eddie: Yes. We didn't feel a need to alter the schedule.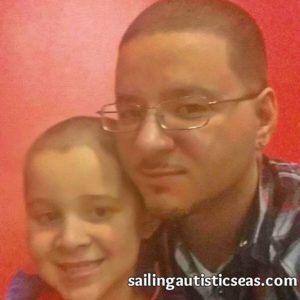 Miz Kp: What effect if any did vaccinations have on your son?
Eddie: The vaccinations had no effect on my son.
Miz Kp: What is your take on the autism-vaccine controversy?
Eddie: I don't believe that vaccines cause autism or it would be more prevalent. If vaccines did have anything to do with causing autism, it would be in combination with something genetic or environmental. I believe ALL children should be vaccinated.
Miz Kp: Do you think that celebrities speaking out for or against vaccinations help or hinder autism awareness?
Eddie: As the old adage says, "any publicity is good publicity." If you agree or disagree, at the very least it gets people talking about autism.
Miz Kp: What advice can you give to parents of younger children who are hesitant to get them vaccinated?
Eddie: There is no research that proves autism is linked to vaccinations, so I believe all children should be vaccinated.
Miz Kp: What would you like to see done differently for Autism Awareness Month 2014?
Eddie: I would like for it to become just autism awareness and not be confided to a month.
Please show your support for Eddie in the comments and share your take on autism and vaccines. HAPPY WORLD AUTISM AWARENESS DAY!  Stay tuned for our next interview.
Sincerely,
Miz Kp