Welcome to my Autism Awareness Parent Interview Series! My goal is to interview two parents per month. During these interviews, we will cover a specific theme regarding autism awareness. Our theme this week is Autism Awareness: Autism Service Dogs
This week I present to you Amy Swanson who is a single mom of DJ who is seven-years old and on the autism spectrum and her daughter, Sierra who is 11-years old. She also home schools both of them with the help of a cyber charter school.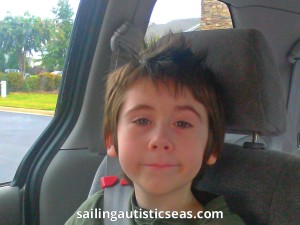 What is the first thing that comes to your mind when you think of autism awareness?
People being aware of what it is, people knowing enough not to judge, or say things like smack it out of them!
How old was your son when he was diagnosed with autism?
Five-years old
What has been the most challenging aspect of raising your child with autism? 
Realizing typical parenting does not work! The fact that I'm a single mom with no help.
What has been the most fulfilling?
Those few moments when my son looks at me and hugs me, smiles, tells me he loves me! Since he doesn't do it often when he does it means the world!
You previously mentioned that you are raising funds to get an autism service dog for your child? Why does he need one?
He has autism, SPD, ADHD, epilepsy, developmental delays and more. He will get a service dog that is trained for behavior disruption, seizure alert, tethering. He is also a runner when out in public and I walk with a walker and cannot chase him when he runs.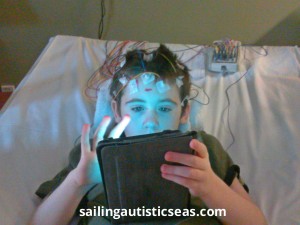 How do you think an autism service dog will enrich your son's life?
He will have unconditional love, a true friend! The service dog will help him to stop banging his head, pulling out his hair, calm him during meltdowns, and it will help get him out of the house to socialize. The dog will also detect seizures before they happen. We can go in public without me having to hold on to him or making him sit because he runs if I don't.
Any additional thoughts on how autism service dogs help children with autism?
I think they are wonderful for autistic children! They help in so many different ways, with so many different things. Autism service dogs can be tailored to your child. We all know how different kids with autism are, well so are the autism service dogs! They really help kids have a connection and know they are not alone!
What adjustments will you have to make as a family once you get this dog?
We already have some pets, so we will have to work on ours not being jealous of the newcomer. It will definitely be different having to bring stuff for a dog when we leave the house.  We will have another child in the house.
What advice will you like to give to other parents who are contemplating getting an autism service dog or are hesitant about getting one?
Don't hesitate! Sure there a lot of responsibility but it will be worth it for you child to have a companion like this! I have heard nothing but good things from families who have them already! Check out 4pawsforability.org they have information about autism service dogs!
What are some good resources that you can share with other parents who may want to learn more about autism service dogs?
4pawsforability.org is the only resource I know of. This is who we are going through for our service dog.
Is there anything else you would like to add?
We are fundraising $13,000 to get our service dog. Any donations are tax deductible, and can be made directly to:
4 paws for ability
253 Dayton Ave.
Xenia OH 45385
Please include In Honor of Dennis Bowman on the check or we won't get credit. Also, we are doing an origami owl fundraiser at kanditobin.origamiowl.com. When you order, make sure to click the drop down box at check out for 4 paws for DJ fundraiser.
Thank you Amy for sharing your thoughts with us.
Please show your support for Amy in the comments and stay tuned for our next interview for the month of November.
Sincerely,
Miz Kp