Welcome to another entry in my Autism Awareness Parent Interview Series! My goal is to interview two parents per month. During these interviews, we will cover a different theme regarding autism awareness. Our theme this week is Autism Awareness: Back to School.
This week I present to you Marlee Torres, mom to Darian, Dariel, and D'edren who tackle life with autism every single day.  Marlee tells me that life with her boys is a huge challenge but she won't let autism stop them – not now, not ever. Marlee believes that autism is the world they live in everyday but they face it together as a whole.
What is the first thing that comes to your mind when you think of autism awareness?
I automatically think about the thousands of parents/caregivers walking in similar shoes. How most of us in the autism community are doing all we can to educate people about autism and offer support and hope to one another. We are not alone.
How old were your children when they were diagnosed with autism? How old are they now?
All three of my sons were diagnosed at age two. Today Darian is ten-years old, Dariel is seven, and D'edren is five.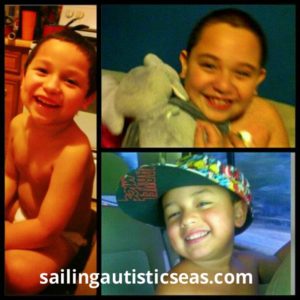 Have your children returned to school for the Fall term? If not, when do they return to school?
School started on August 26th for us and I have to admit, I am relieved that it has finally started. Mommy needs a lil break. Phew!
Name three things that you do every year to prepare for the first day of school.
I definitely look over each of my son's latest IEP to make sure me and their teachers are working on important goals.
I always make sure each school has my updated information, such as my cell phone number. I want to make sure in case of an emergency, they can get a hold of me right away.
Food: Most of our children are on special diets or very picky. I buy snacks in case my boys are hungry before or after lunch at school.
How do you prepare your children for the transition of returning to school?
A big thing for us is sleep. Summer always calls for long day and nights of fun, so a week before school starts we definitely get very strict with our bedtime routine. We also limit electronics at night.
What has been the easiest part of this transition?
The easiest part is just the simple fact that most of the time melatonin helps with sleep. Days without melatonin mean no sleep for us. Getting them up and on the bus every morning is definitely easy as well, since we have the coolest bus driver (Shirley) and bus aide (Marisa). They show so much love and support to my boys. I love them.
What has been the most challenging part of this transition?
The hard part is honestly getting my kids to not strip their clothes or shoes off before the bus arrives. Sensory is a big issue for my boys.
What do you think schools can do/ should do to help parents with the back to school preparation process?
I think teachers of children on the spectrum should offer more social stories, so our children can get information about situations and expectations in the classroom
What do you look forward to the most for the new school year?
The most important thing is always my boys' safety to and from their schools. In regards to education, I definitely hope for more accomplished goals this year.
What do you not look forward to during the beginning of the school year?
Even though we all hope for each day to go as smooth as possible, I am definitely not looking forward to the calls or notes pertaining to meltdowns. No one likes to hear that their child is having a meltdown.
What advice can you give to other parents who are preparing for or going through the back-to-school preparation process?
My advice would be to not wait for the last minute to get things done. Everyone is busy, but you can save yourself an incredible amount of stress if you make yourself a to-do list of the things that need to be done. The back-to-school preparation doesn't have to be overwhelming.
Is there anything else you would like to add?
I'd like to remind every autism caregiver in the world: You are not alone. Always believe.
Please show your support for Marlee in the comments and stay tuned for our second September interview coming up later this month.
 Sincerely,
Miz Kp
Comments
comments