Welcome to my Autism Awareness Parent Interview Series! During these interviews, we will cover a specific theme regarding autism awareness. Our theme this week is Autism Awareness: Coping with Meltdowns. 
Now I present to you Luis Vendrell who is a married father of two. His three-year old son, Elijah was diagnosed with PDD-NOS when he was one.
Miz Kp: What is the first thing that comes to your mind when you think of autism awareness?
Luis: The thing that comes to mind for me without even thinking about it is the lack of awareness. Do not get me wrong, I am so sad for the Oquendo family but they did shed light on the autism spectrum. I can't tell you how many people are ignorant about the autism spectrum. It's sad that Avonte went missing and was ultimately found lifeless. I prayed for his family and thank them because it may not be the last time one of our autistic children ends up missing. Now we may be more prepared for such events, thanks to the Oquendo family.
Miz Kp: How old was your son when he was diagnosed with autism? How old is he now?
Luis: We found out and sent him in for Early Intervention around the age of one. Elijah is now three-years old.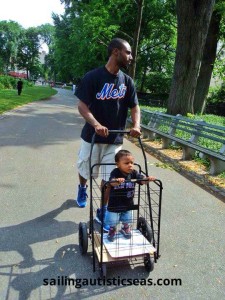 Miz Kp: How do you handle your son during a meltdown when you are out? What do you do to help him through it?
Luis: Some meltdowns are more extreme than others. My wife Maritza deals with him a lot while I'm at work. When I am with him on our off time, I am more of the person that will sit back and let him work through it on his own. I am also aware it's possible he could hurt himself. I normally don't communicate verbally with him to antagonize him. It seems that he gets worse when you're talking to him. I feel he does a little better when he tries to work it out himself.
Miz Kp: What has been the general response of strangers to your son during these meltdowns? How do you react?
Luis: They look and it becomes a little embarrassing. However, my cousins, Marisol and Lourdes Vendrell have told me (and I take their advice seriously) that everybody else whether it is on a train or at a restaurant, etc. deals with the disturbance for a short amount of time. We live everyday with our bundle of joy. So, I really don't pay attention to the audience. LOL
Miz Kp: What has been the general response of your family or friends to your son during these meltdowns? How do you react?
Luis: My family has been very supportive after I have explained my son's condition to them.
Miz Kp: How would you like people to respond when they see a child with autism having a meltdown?
Luis: To not always look and think that he is a spoiled rotten child.
Miz Kp: What advice can you give to parents who may not know how to stand up for their child during these challenging times?
Luis: Find a relaxing method. It works for me. Every child on the spectrum is different but the main constant is having PATIENCE!
Miz Kp: What would you like to see done differently for Autism Awareness Month 2014?
Luis: Honestly I didn't even know there was an autism awareness month.
Please show your support for Luis in the comments and stay tuned for our next interview.
Sincerely,
Miz Kp