Welcome to another entry in my Autism Awareness Parent Interview Series! My goal is to interview two parents per month. During these interviews, we will cover a different theme regarding autism awareness.
This week I present to you Michele, mom to five-year old Jayde.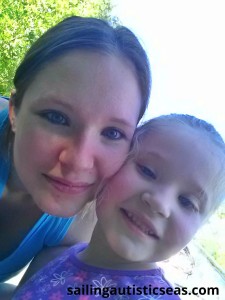 What is the first thing that comes to your mind when you think of autism awareness?
To let the general public know that autism is not "bad parenting," it is a disorder of the brain.
How old was your child when he or she was diagnosed with autism? How old is your child now? 
My daughter was four and a half. She is now five.
How would you describe the process that you went through to get your child diagnosed?
I filled out a questionnaire at her doctor appointment and they referred me to a center in my area to get her tested for autism. I had an initial intake appointment, and then a two-hour review of my daughter that included them asking her questions, watching her play freely, and watching her play in a structured environment. I got the diagnosis about one week later.
What area of your life was most impacted when you received your child's diagnosis? 
My emotional state.  I thought I was doing everything wrong and that she had all her quirks and behavior issues because I was a bad mom.  It helped me a lot knowing that she was just different and needed to be treated differently.  Just knowing that has helped me improve her speech and behavioral issues because I know she doesn't communicate like a kid who isn't autistic, so I handle things differently now.
What resources have you had access to since your child was diagnosed with autism? 
Respite care.  When she starts school in the fall she will have speech therapy.  Her motor skills are two years behind but the center to help her with that is an hour away from me and they think with just some adapted PE she will be able to catch up.
What resources do you wish you could have?
I think I am getting the help I need, except school wise.
Do you feel that you have enough support as you pursue special education for your child? 
No, definitely not. There is only one school in my district and it is very small.  I feel that they are not capable to give my daughter the education and help that she needs.  However, all the schools that I could transfer her to are full.  I am pretty much forced to enroll her in this school.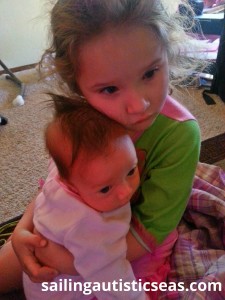 Who or what do you lean on for support? 
My ultimate support is God. I know he gave me my beautiful daughter because I would be patient enough and loving enough to give her the love and attention she would need. When it gets too hard, I look to him. I know he would never give me anything I couldn't handle.
If you could ask an adult with autism one question, what would it be? 
I would like to know how they feel when in a social environment.  How do they see it being?
What advice can you give to other parents who have just learned that their child is on the autism spectrum?
This diagnosis does not mean your child is "stupid." They are different. They are still your wonderful child, just with some quirks. It will get hard, and you may cry in frustration (I know I have), but just stop and take a look at your child. They are unique beings. They are what God made them. They are a blessing.
What hopes and dreams do you have for your child? 
I want her to be whatever she sets her heart on, just like any other mother would want for her child.  I want her to understand she has autism. I want her to overcome it and keep moving forward.  She is smart, and funny, and wonderful, and I believe she can do anything she sets her heart on.
Thank you, Michelle for sharing your thoughts with us.
Please show your support for Michelle in the comments and stay tuned for our next interview coming up in July.
Sincerely,
Miz Kp
Comments
comments