Welcome to my Autism Awareness Parent Interview Series! During these interviews, we will cover a specific theme regarding autism awareness. Our theme this week is Autism Awareness: New Year, New Goals.
Now I present to you Jessi, who is the writer of the blog Deciphering Morgan. She is also the mom to Morgan (autistic ham), Bay (NTish ginger), and the wife to a very patient man. She spends a lot of time avoiding housework, writing, and making bad memes. Sometimes she cooks, too. You can find her saying somewhat witty and inane things on her Facebook page or lazily tweeting at @Decipher_Morgan.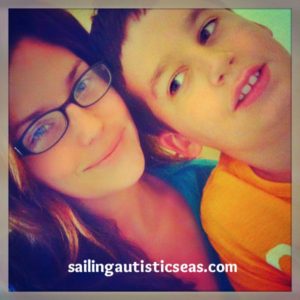 Miz Kp: What is the first thing that comes to your mind when you think of autism awareness?

Jessi: When I think of autism awareness, I think of respect for autistic individuals like my son.. We have a very long way to go. Society tends to view those with autism as those to pity. When people know Morgan is autistic, they want to say, "But he seems so high functioning!" or "But he doesn't look autistic!" This needs to stop.
Miz Kp: How old was your son when he was diagnosed with autism? How old is he now?
Jessi: Morgan was six when he was diagnosed officially, after waitlists/misinformation. He is now nine- years old. We've known since he was three.
Miz Kp: Name four goals that you have for your child this new year.
Jessi: This year, we are working on more self advocacy skills- learning to speak up when he feels uncomfortable, initiating play when he wants to, and asking for help, tying his shoes, personal hygiene, and enhancing his reading skills.
Miz Kp: What supports do you think you will need to help your child achieve these goals?
Jessi: Aside from personal hygiene, I have nearly all of those written into his IEP in some way. Visual supports are needed for personal hygiene, as well as continuous verbal prompts. He also needs redirection, guidance, and hand over hand assistance in some areas.
Miz Kp: What role can your child's school play in helping him/her reach these goals?
Jessi: They play the majority of the role, due to insurance. We have a terrific team at his school from his para to the therapists, to his classroom teacher. Even the playground attendants help him with the self advocating and his shoe tying. At home, my husband and I do the work, with materials the therapists send home. I cannot speak highly enough about that school.
Miz Kp: If you could do one thing differently as an autism parent this year than you did last year, what would it be?
Jessi: Relax a little and laugh more- that's two. I feel like I'm missing out on my son's childhood by projecting my fears onto him and making him afraid. I don't want that. He's a genuinely happy kid most of the time and I want him to be able to hold onto that. I think in order for him to do so, he'll need his mom to just let go and relax. I'm trying very hard to live life more out loud. Sometimes, on this roller coaster ride of a life we're on, we need to throw up our arms and laugh when we're really wanting to cling and cry. That's hard.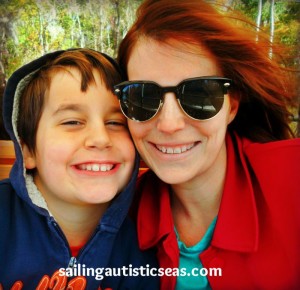 Miz Kp: Some people call it autism awareness and some push for acceptance. What are your thoughts on this and how can we move the conversation in a more productive direction in 2014?
Jessi: We already have public awareness campaigns. We already preach acceptance. In the blogging world, I'm seeing a lot of women "come out" as having Aspergers or HFA, like I just did. We're de-stigmatizing it. We're allowing a peek into our families, which is great, because it debunks the myth that we're barely living- we're being real.
We are battling decades old assumptions and myths. We must raise awareness and teach acceptance organically. That is, start in schools, churches, community centers, etc. Start with children, they'll teach their parents and then normalize autism. Explain how autism looks different in everyone, why it's okay to be autistic, and to be friends with those who have autism.  Explain, too, that making friends with someone who has different needs than you can be a benefit to both you and that person.
As for adults, I still haven't figured that out. I just open my mouth up a lot and my computer, too, and hope that something educational and witty comes out. I hope those reading learn something.
Miz Kp: Thank you Jessi for sharing your thoughts with us.
You can find Jessi at:
Web site: Deciphering Morgan  www.decipher-morgan.com
Facebook: www.facebook.com/DecipheringMorgan
Twitter: @Decipher_Morgan.
Please show your support for Jessi in the comments and stay tuned for our next interview.
Sincerely,
Miz Kp