Welcome to my Autism Awareness Parent Interview Series! During these interviews, we will cover a specific theme regarding autism awareness. Our theme this week is Autism Awareness: Parenting a Child with Autism.
Now I present to you Demetrus who is a father and husband. His four-year old daughter, Lailah has been  been diagnosed with ASD.  He works in the mortgage industry and is also a minister and basketball coach.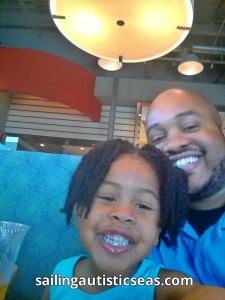 Miz Kp: What is the first thing that comes to your mind when you think of autism awareness?
Demetrus: When I think of Autism Awareness, I think of education. I think it's important for people to know as much about ASD as possible. The more people know, the more we can do collectively to advocate for those on the spectrum.
Miz Kp: How old was your daughter when she was diagnosed with autism? How old is she now?
Demetrus: My daughter was two-years old when she was diagnosed. She is four now.
Miz Kp: What has being a parent of a child on the autism spectrum taught you?
Demetrus: The biggest thing I think is patience. It took me a while, but ultimately I had to learn that Lailah is not incapable of learning but the pace at which she learns things is not the same as other children. She has been progressing.  Throughout her journey, I'm continuing to work on being patient.
Miz Kp: We hear a lot from moms and what they go through as autism parents. What are your biggest challenges as you parent your daughter?
Demetrus: One challenge that I have had as a parent is communication with my daughter. She has some speech delays, which was a huge barrier early on. As a parent, you want to be able to comfort and console but sometimes you can't gauge what's wrong. As her speech has developed, she has been able to better communicate things like hunger, thirst or pain. Also, some of her social apprehensions make family outings interesting.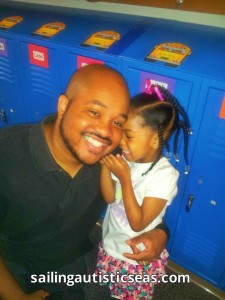 Miz Kp: What support do you need to help you through these challenges?
Demetrus: I think this is where autism awareness is important. More knowledge leads to the development of more programs that can help our kids. It's great that some health care providers are starting to cover certain therapies and treatments for kids with ASD. The hope is that this continues to develop and grow.
Miz Kp: What has been the most fulfilling aspect of parenting your daughter?
Demetrus: One of the most fulfilling things as a parent has been seeing the relationship Lailah has with her siblings. My other kids do such a great job looking out for their little sister. My son, who's the oldest, is especially helpful. Even though Lailah can give him a hard time from time-to-time, he typically takes it in stride.
Miz Kp: Name three things that describe how autism parenting has changed your life.
Demetrus: Three ways autism parenting has changed my life are:
It helps me to show more affection. We have always been a "hugs" and "I love you" type of family but we have turned it up a notch. We always are intentional in expressing our love to Lailah, which in turn has made her more affectionate.
It has increased my faith. I often pray for God to give me the ability to be the best dad I can be, not just to my daughter, but to all of my kids.
I dance more.  Lailah loves to dance! We often have dance parties to some of her favorite tunes!
Miz Kp: What would you like to see done differently for Autism Awareness Month 2014?
Demetrus: I would love to see more conversations with fathers for autism awareness month 2014.  Dads may process things differently than moms, so it would be good to get insight from fathers on how they parent their children with ASD effectively.
Miz Kp: Is there anything else you would like to add?
Demetrus: Children with autism aren't burdens, they are blessings! There are challenges, good days and bad days, but the good always outweighs the bad. The rewards are awesome!
Thank you Demetrus for sharing your thoughts with us.
You can find Demetrus at:
Web site: Lightlife Living
Facebook: https://www.facebook.com/LightLifeLiving
Twitter: @ThisIsLightLife
Please show your support for Demetrus in the comments and stay tuned for our next interview.
Sincerely,
Miz Kp
*ASD- Autism Spectrum Disorders