Welcome to my Autism Awareness Parent Interview Series! I will interview a minimum of two parents per month. During these interviews, we will cover a specific theme regarding autism awareness. Our theme this week is Autism Awareness: Processing My Child's Autism Diagnosis
I present to you Scott. He is a Methodist pastor who is married and has two children. A son who is 19 and in the army and a daughter, Alexys who is seven and has autism.
Miz Kp: What is the first thing that comes to your mind when you think of autism awareness?

Scott: Acceptance, I believe if people were educated, children with autism would be viewed differently and accepted for who they are.
Miz Kp: How old was your child when she was diagnosed with autism? How old is she now?
Scott: Five when diagnosed; she is seven now.
Miz Kp: What emotions did you experience when you got your daughter's autism diagnosis?
Scott: I experienced mixed emotions. I was devastated yet happy to receive a diagnosis so we could get started with getting her the support she needed.
 Miz Kp: Did you have any support? If so, how did your support system help you? If not, how did the lack of support impact how you dealt with your daughter's diagnosis?
Scott: We had the support of our OT and our diagnosing psychologist. They led us to our next therapy approach. They gave us assurance that as a team we could help her progress.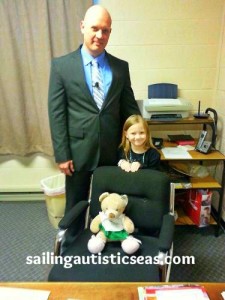 Miz Kp: What are two of your daughter's greatest strengths?
Scott: Two of her greatest strengths are how hard she works in therapy and her love and affection.
Miz Kp: What are two skills that your daughter needs to work on?
Scott: The two skills she needs to work on are rigidity and her social skills.
Miz Kp: Name four things that should be on the to-do list of every parent dealing with their child's autism diagnosis.
Scott: Seek out a strong therapeutic team. Always listen to your gut instinct. Seek out grants, scholarships, state and local resources and other financial help. Be prepared to go to battle, never be afraid to fight for your child.
Miz Kp: What would you like to see done differently in society for the upcoming Autism Awareness Month?
Scott: I would like for the autism community to set aside their differences and come together to ask for awareness and acceptance.
Miz Kp: Is there anything else you would like to add?
Scott: As a Pastor I am bothered by the fact that only 10% of special needs families attend church regularly.
Thank you Scott for sharing your thoughts with us.
Please show your support for Scott and share how you processed your child's autism diagnosis in the comments.  Have a Happy Valentine's Day!

Sincerely,
Miz Kp