Welcome to my Autism Awareness Parent Interview Series! During these interviews, we will cover a specific theme regarding autism awareness. Our theme this week is Autism Awareness: Single Parenting a Child with Autism. 
Now I present to you Grace. Her son Ryan has been on the autism spectrum for two and a half years. Grace would like us to know that her journey has not been easy but they have come a long way and she will continue to be Ryan's voice.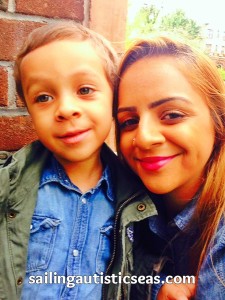 Miz Kp: What is the first thing that comes to your mind when you think of autism awareness?
Grace: When I think about autism awareness, I think about how unaware a lot of people are and how it's up to us to advocate and educate others on what autism is instead of thinking that a child is just spoiled or needs to be disciplined.
Miz Kp: How old was your son when he was diagnosed with autism? How old is he now?
Grace: Ryan was a year and a half when he was diagnosed. He is now 4-years old.
Miz Kp: What has been the most fulfilling part of parenting your son?
Grace: The most fulfilling part of parenting my son is looking back from where we came from to where we are now and watching him reach milestones I didn't think he would achieve.
Miz Kp: What has been the most challenging?
Grace: The most challenging part has been watching my son struggle to communicate. Sometimes he tries so hard to tell me something and I won't be able to understand especially his feelings. This makes me feel defeated.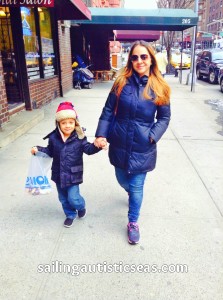 Miz Kp: Name three forms of support that makes a huge difference in your life as a single mom raising a son with autism. Give a brief explanation of how each one is supportive.
Grace: One of the biggest support systems that have helped me out a lot are the autism moms that I have met online. We all understand each other and there never is any judgment. On any given day, I can count on them to cheer me up. When my son reaches a milestone that might not seem like a big deal to others, they know how big of a deal it is for us. They understand it all!
Another huge support system is my family, especially my mother, Without them, I wouldn't be able to go to school or even work. I can be at ease where ever I am and know that I do not have to worry about the hands my child is in.
Last but certainly not least is my boyfriend; this man came into my life and took my child in as his own. The bond that he and Ryan share is unbreakable. For a man to come in and pick up another man's responsibilities takes a lot, especially for a child with autism.
Miz Kp: How can you describe single parenting a child with autism in one sentence?
Grace: To be brutally honest in my perspective, it doesn't get easier but it gets better!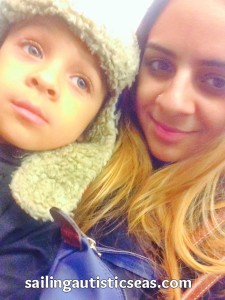 Miz Kp: What advice can you give to other single parents who are raising children with autism?
Grace: Expect to have moments of hope and moments of grief. Sometimes they might even be the same moment. When you let go of hope,  fear wins. NEVER GIVE UP HOPE. (author unknown)
Miz Kp: What would you like to see done differently for Autism Awareness Month 2014?
Grace: Action! I'd like to see actions taken toward autism, so that our kids and other individuals can have their needs met.
Please show your support for Grace in the comments and share your take on autism and single parenthood. Stay tuned for our next interview.
You can find Grace at:
Blog – Spectrum Adventures
Instagram– @keepingupwithG or @_teamryan
Sincerely,
Miz Kp