Welcome to another entry in my Autism Awareness Parent Interview Series! My goal is to interview two parents per month. During these interviews, we will cover a different theme regarding autism awareness. Today's theme is Autism Awareness and Social Skills.
This week I present to you Irene, who is a SAHMW-Homeschool Educator and Girl Scout Leader. Irene and her husband have three girls ages 4, 9, and 13.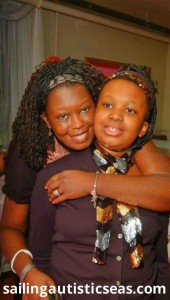 What is the first thing that comes to your mind when you think of autism awareness?
That I will continue to try my best to be as open as possible and share all that I know about autism with any and everyone.
How old was your child when she was diagnosed with autism? How old is she now?
Malika was 22 months old and she is nine-years old now.
How would you describe your child's social skills?
They're improving more and more with each event. She's truly blossoming. There was a time when she would stay on the sidelines. Now she's able to introduce herself or ask can she join in.
What activities are your child involved in and how have they impacted her ability to relate to her peers?
The three that have had the most impact would be Girl Scouts, a mommy-and-me group I started with friends, and her music class. These three activities have given her the opportunity to embrace who she is in a safe and loving environment, without any judgment. I give them all credit for their consistency and helping her build up her confidence.
Are these activities geared toward special needs children only or are they mainstream activities?
Most of her groups are mainstreamed solely because she's home schooled and they're with my friends/family's children who she grew up with. Her music group is a beautiful combination of children with different abilities and we've made some great friends.
What are your child's strengths when in a social setting?
She's very engaging and loves making new friends. She still drifts in and out but depending on her interest she can stay engaged for long periods of time.
What are her challenges?
Her transitioning skills are still being worked on.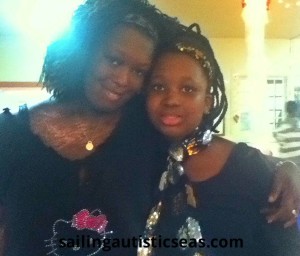 What strategies do you use to help your child cope in overwhelming social situations?
Music helps a lot, so we're sure to have her gadgets at all times. Plus I carry a "bag full of tricks" but of course there's no way to be prepared for every incident.  We're also working on her asking to be excused when she's feeling overwhelmed.
What is your child's favorite social activity?
She loves theme parties and arts and crafts
Do you use social stories? If so, how helpful are they? If not, why?
I've read about them but honestly I've never used them. Based on the event, we talk to her about the type of behavior that's desired, and we let her know what to expect.
What hopes and dreams do you have for your child in regards to her social interactions?
I hope she continues forward on the current track she's on. I pray she keeps her desire to try new things, dreams big, and knows we're here for her in all her pursuits. Nothing beats a failure but a try, so I hope she tries it all!
Is there anything else you would like to add?
At times our fears keep our children from trying new things. It's important that we help them build up their social skills and their confidence. Sometimes that may mean for us to step out of our comfort zone. If there aren't any groups out there for your child, try to start one up with family/friends. It's more about consistency, then it is about large numbers in a group. I was very fortunate to be surrounded by a great circle of family and friends. It truly takes a village to raise any child and I'm blessed to have the support. It's important for us to let those who love us help us.
Thank you, Irene for sharing your thoughts with us.
Please show your support for Irene in the comments and stay tuned for our next interview coming up toward the end of this month.
Sincerely,
Miz Kp
Comments
comments