Welcome to my Autism Awareness Parent Interview Series! I will interview a minimum of two parents per month. During these interviews, we will cover a specific theme regarding autism awareness. Our theme this week is Autism Awareness: Taking Charge of My Child's Education.
I present to you Bielka, an educator and an advocate. Her son's name is Billy and she shares that he has taught her the true meaning of life.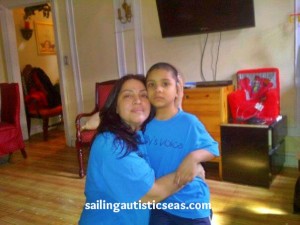 Miz Kp: What is the first thing that comes to your mind when you think of autism awareness?
Bielka: When there is autism awareness, people understand that our children are different and are accepting of those differences.
Miz Kp: How old was your child when he was diagnosed with autism? How old is he now?
Bielka: Billy was diagnosed at the age of 18 months.  He is 6.5 years old.
Miz Kp: How does your background as a teacher enable you to help your child with his education?
Bielka: I am very well aware of the needs that children with special needs have. Having this knowledge enables me to work with him at home and advocate for his needs when we have annual meetings and throughout the year.
Miz Kp: How receptive has the staff at your son's school been to your expertise?
Bielka: I have a wonderful relationship with my son's teacher, occupational therapist, and counselor. We work as a true team and consult one another whenever Billy is experiencing difficulties. We also celebrate milestones and achievements.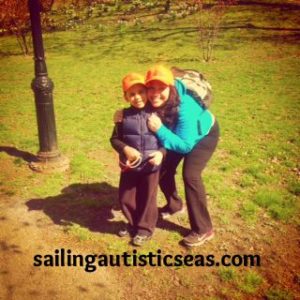 Miz Kp: What is the homework process like for your son?
Bielka: He gets homework Monday –Thursday. He isn't the biggest fan but nonetheless he does it very quickly. We have a system in place, homework first and then iPAD.
Miz Kp: What is your child's greatest area of academic need? How are you helping him in this area?
Bielka: Writing but we work around that. We use typing and sticker letters. His greatest difficulty is understanding and answering questions. For the latter, we constantly ask the same questions while working with different materials. For example, he has been learning about characters and we constantly reinforce that learned concept.
Miz Kp: What are your thoughts on the common core and how it is applied to students with disabilities?
Bielka: Don't get me started on that! As an educator I can definitely tell you that Common Core (CCLS) didn't take our special needs children into to consideration! Furthermore, the curricula that has been created for the CCLS have completely failed our children. There is no true adaptation for our kids. This shouldn't be a one size fits all type of learning!
Miz Kp: What advice can you give to parents who may be facing challenges as they try to help their children progress in school?
Bielka: Don't give up and don't rely on only one method. If something doesn't work, we find another way. Billy hated (still not in love with) addition. His teacher started making sheets with his favorite movie or cartoon character. He started accepting it. Then, I took his Toy Story toys (since he has many) and used them as manipulatives to add. Repetition is also key. Introduce new concepts and revisit old ones.
Thank you Bielka for sharing your thoughts with us.
Bielka is also an amazing children's party entertainer and event planner. Need more information? E-mail her at bcruz207@aol.com.
Please show your support and share how you take charge of your child's education in the comments.
Sincerely,
Miz Kp