Disclaimer: I was sent one Chuck E. Cheese's guest pass for my review. I did not receive financial compensation. All opinions are mine.
Angel had a great experience at Chuck E. Cheese's during his spring break. We went on a week day because we wanted to avoid the crowds. There were a lot of kids there but not so many that Angel would feel overwhelmed. As soon as we redeemed our guest pass and found a table, the wait for our pizza began. It took 15 minutes for our pizza to arrive and for Angel this was a lifetime. Waiting is very hard for him and it took a lot to keep him entertained. Once our pizza arrived, Angel could not wait to take a bite. While we ate, I noticed this statement on
my cup: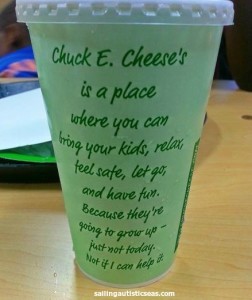 Being an autism parent, I wondered if I would really be able to relax, feel safe, let go, and have fun. Whenever we are out with Angel especially in inclusion settings, we always hover to facilitate sharing, help him play appropriately, and to make sure he is safe. I was still open to giving it all a try.
After we finished our pizza, we headed out to the game floor to see what Angel would be interested in. As soon as we got to Ducky Splash, I knew it would be a hit. Angel spent most of his time playing this game. He could care less about the tickets that he won as he played. He even got the hang of putting his own token in the slot and aiming the water nozzle toward the ducks. He also used his hand to block the water. Why? Because he loves water and it is not fun if he can't splash it. See why we hover?
During our visit another parent pointed to her son then to Angel and said, "Him and him are the same." I looked at her and smiled. Then she asked if Angel was autistic and I replied yes. She told me that her son was also autistic and nonverbal. I had a feeling that he was and I told her so. How could we tell that each other's child was on the spectrum? I think Angel flapping and rolling on the floor because we told him not to splash water was a giveaway. As for her son, I just had a feeling based on his mannerisms and I was right.
Next I decided to take Angel to explore some of the other games. He was not interested. When we took him to some of the motorized cars, he would hop out of them mid-ride as soon as he lost interest. This happened a few times until he discovered the Alley Roller Classic. Angel had to toss a ball behind a glass and if it landed in a hole with a certain amount of points his score would increase. I loved seeing how he progressed from barely making any points to making over 12000 points. He loved this game.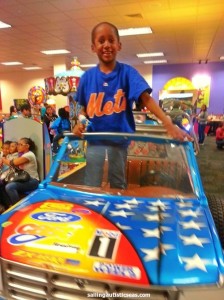 What I liked about our experience at Chuck E. Cheese's is that Angel was able to find something that he liked and he was able to enjoy it. He could be himself. He was able to flap, screech, and roll on the floor and it was okay. Chuck E. Cheese's can be a bit noisy and this can cause sensory overload for Angel but he was still able to cope and have a good time. We certainly look forward to taking him back in the near future.
Before you go, check out more photos from Angel's day at Chuck E. Cheese's:
Has your child been to Chuck E. Cheese's? Please share their experience in the comments below. I look forward to hearing from you. 
Sincerely,
Miz Kp
This is a review of the Chuck E. Cheese's located at 700 Exterior Street Bronx, NY, 10451 (Bronx Terminal Market).

Disclaimer: I was sent one Chuck E. Cheese's guest pass for my review. I did not receive financial compensation. All opinions are mine.