Welcome to my Autism Awareness Parent Interview Series! I will interview a minimum of two parents per month. During these interviews, we will cover a specific theme regarding autism awareness. Our theme this week is Autism Awareness: The Parent-Therapist Relationship.
I present to you Mallory, a 24-year old mother to five-year old Holland who is diagnosed with autism and ADHD. Mallory's three-year old son Zane has been diagnosed with epilepsy, asthma, food allergies, and a developmental delay. She has her Bachelor's Degree in Psychology with a minor in Sociology and she is currently working towards her Master's of Arts in Teaching.
What is the first thing that comes to your mind when you think of autism awareness?
When I think of autism awareness I think of informing my family and others in my community about autism. This is difficult because when people hear "Autism" they think of the media's portrayal of autism, which isn't always correct. This makes it hard to teach people about what autism really is and how each child is different when they've been diagnosed.
How old was your child when she was diagnosed with autism? How old is your child now?
My daughter was diagnosed with Autistic Disorder in June 2012. She is five years and five-months old now.
What therapies or related services does she receive?
Beginning February 2011, my daughter began receiving Early Intervention services, Occupational Therapy, and Speech Therapy through a local special needs school. In 2012, she began horseback riding therapy. She currently receives Occupational and Speech Therapies at school (she is in Kindergarten). She also receives extra therapies (Occupational, Speech and Physical, along with Aquatic therapies) after school.
What settings are these services provided in and how often?
She receives Speech Therapy at public school (twice a week for 30 minutes) and Occupational Therapy at public school (once a week for 30 minutes). She also receives Speech Therapy at a therapy office (once a week for one hour); Occupational Therapy at a therapy office (once a week for 30 minutes); and Physical (Aquatic) Therapy at a therapy office (once a week for one hour).
How would you describe your relationship with your child's therapist?
My relationship with my child's Speech and Occupational therapist at school is very friendly and personal. I talk with her Speech Therapist often through text messages to discuss her. I am not very familiar with her Speech, Occupational and Physical Therapist at the therapy office because I do not take her (her father takes her to this office).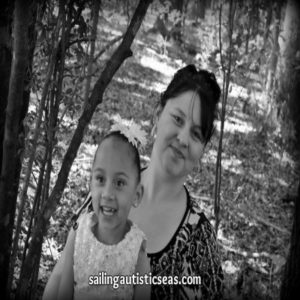 How would you describe your child's relationship with their therapist?
My child LOVES her speech therapist at school. I am not sure whether or not she LOVES her other therapists. She doesn't say much about them.
How do you and your child's therapist communicate?
School Speech Therapy: text, phone calls and e-mails; School Occupational Therapy: IEP meeting; and Therapy Office Occupational Therapy, Physical Therapy, and Speech Therapy: phone calls.
Does your child's therapist welcome your input on creating specific and measurable IEP goals?
Yes, both the Occupational Therapist and Speech Therapist at school value and continuously ask for my feedback before, during, and after the IEP meetings we've had (especially her Speech Therapist).
What strategies from your child's therapy sessions have been most helpful at home?
Being given cards to practice pronouns, opposites, and differences at home. She really enjoys seeing pictures mixed with words. She also enjoys cutting and gluing activities from her Occupational Therapist.
What advice can you give to other parents to enhance their relationship with their child's therapists?
I would recommend being aware of what your therapist is doing with your child. You can ask for a calendar of what your child's therapist is practicing on what days and ask for ideas about what you can do at home to enhance the therapist's teaching. You want to make your therapist know that you are interested and determined to help your child. Your child's therapist cannot do this job alone; it takes help from parents and other family members if you'd like to your child to improve quicker and comprehend these skills easier.
Is there anything else you would like to add?
I would just like to add that not only do therapists need the help and guidance of the parent, but the teacher (if they are in school) would be appreciative of your ideas about what works best for your child as well. You know your child best and you know what may work and what may not work. You still want to keep an open mind though because, as I know from experience, just because your child won't do something about home, doesn't mean they won't do that for someone else.
Thank you Mallory for sharing your thoughts with us.
What is your relationship with your child's therapist(s)?
Share your story and please show your support for Mallory in the comments. Please stay tuned for our next interview this month.
Sincerely,
Miz Kp