Welcome to my Autism Awareness Parent Interview Series! I will interview two parents per month. During these interviews, we will cover a specific theme regarding autism awareness. Our theme this week is Autism Awareness: Wandering.
I present to you Iliana who is the mother to two beautiful children, a 7-year old daughter and a five-year old son, Joshua Mateo who is on the autism spectrum. She is married and works part time as an Educational Director. 
What is the first thing that comes to your mind when you think of autism awareness?
The first thing that comes to my mind when I think of Autism Awareness is to educate everyone I come in contact with especially when I am with Joshua.
How old was your son when he was diagnosed with autism? How old is your son now?
My son had just turned two when I had him re-evaluated, he was already receiving some therapy because he wasn't producing any sounds. Being an early childhood educator, I have always kept a close eye on my children's development. Joshua was then diagnosed with mild autism with PDD traits which was confusing to us. He is now five-years old and has come along way!!! We are so proud of him. Early Intervention was definitely a major component to his progress. He started to talk about a year and a half ago.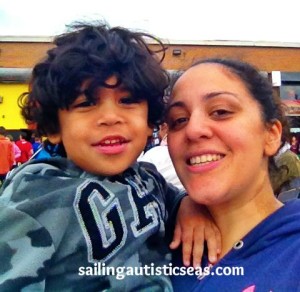 Has your child ever bolted or wandered away? If not, what measures have you taken or have thought of taking to prevent this from happening?
Thankfully Joshua has never bolted or wandered but that is always a fear of mine especially in parks or big crowded places. My husband's son who has severe autism has bolted on occasion when he was younger and it was really scary. Luckily it happened on the block he lived on and there were some neighbors out that were able to stop him while his grandfather caught up to him. Thankfully now that he is older, he has not bolted or wandered at all. At my house though we have put alarms on the windows and doors and latches on the doors as well.
Does your child wear a tracking device? What do you think of New York State Senator Charles Schumer's idea for the Department of Justice to create a fund for tracking devices for children of autism?
Currently Joshua does not have a tracking device, but we have really considered it for our son and for my husband's son. I believe Senator Schumer's call for a tracking device is a great idea. We live in New York and I would definitely support having this program available here.
What would you like others to understand about what autism parents have to do to keep our children safe?
I would like others to understand that it isn't easy because unlike typical developing children, our children do not understand danger or safety. Some of our children are non-verbal and may not be able to communicate with others if they are lost. We have to do things that may seem extreme to other people, like putting alarms and latches on door and windows.

Do you think that school personnel are well trained to handle children with autism who may bolt or wander?
I personally do not feel that every school or their personnel are well trained to handle children with autism, let alone children who are also wanderers. There needs to be more effective training either at the school site or in colleges and universities that offer an education program to better train future teachers as well. When I was going to school for my Master's in early childhood education, I had just one class on special needs children and only one session on children with autism.
What would you like to say to people who judge parents and accuse them of not watching their child when they have wandered or bolted?
To those people who judge us and accuse us of not watching our children when they have wandered, until you walk a mile in our shoes you do not have the right to judge. We (autism parents) have so much personal guilt enough as it is to have to feel that we are either not doing enough or are being too harsh on our autistic children. Only we know why we take these measures and the only thing we as autism parents can do is educate others about our kids.
Thank you Iliana for sharing your thoughts with us.
Has your child ever bolted or wandered? Share your story and please show your support for Iliana in the comments. Stay tuned for our next interview this month. For more information on wandering, you can visit the National Autism Association's Web site.

Sincerely,
Miz Kp