I am so proud of my lil guy!! He went to bed WITHOUT pull ups and woke up DRY!!!
The path to this day has been paved with many potty training adventures.
Let us start with the…
The Preschool Days
When Angel was in preschool, he had a potty training goal on his IEP. I have to shake my head at this one because his teacher made little to no effort to help Angel with this goal. We were no better on the home front. We still "babied" Angel and only made sporadic efforts to potty train him. I guess the cost of pampers was not enough of a motivator. Then Angel started a new school and EVERYTHING changed.
Hooray for Kindergarten
I remember Angel's principal telling me that all the kids who leave his section of the school are potty trained. The pressure was on. Of course she acknowledged that there were exceptions, since we know that some children on the autism spectrum take longer to be potty trained for a variety of reasons. Still this was her pitch…her talking point. I loved it. Finally we would have some real help with potty training.
Angel's teacher at the time was a God send. After a few months, she started letting him go through his school day without pull-ups. He would only wear pull-ups to and from school. They also had him on a schedule.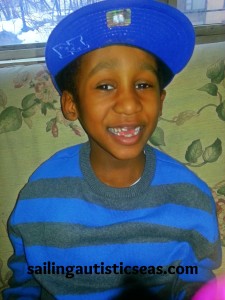 Then she started sending home without pull-ups. As soon as he came home we would put pull ups on him. It was so hard to let go. I finally decided to also put him on a schedule at home and I used the Huggies potty training app which has a timer. Angel's teacher suggested that we let him go without pull ups during the day. They even gave us a laminated first-then chart to show the reward he would get for using the potty. Let's just say it was an adventure and my carpet is ruined. Still it was worth every accident. Why? It led us to where we are today.
First Grade (Present Day)
Up until now, Angel was only day time potty trained. He only wore pull-ups to sleep and when we were traveling on long trips with no bathroom in sight. There have been several nights when he wakes up dry. His school psychologist told me that if this happens three to five nights in a row he may be ready to sleep without pull-ups. This was weeks ago but I finally decided to try it last night. IT WORKED! Of course, I have a plastic on the mattress and he had a "wee wee" pad beneath him. Still IT WORKED!
One key thing we have to remember is NO LIQUIDS two hours before bed and he has to pee right before he goes to bed. We will see how this works out over time. Still we are celebrating this victory.
GO ANGEL!
Is your child potty trained? What was the process like for you? What challenges did you have? Share your story in the comments. I would love to hear from you.
Sincerely,
Miz Kp