(Updated: April 9th, 2013)
CONGRATULATIONS TO NELL ESCALANTE.  She is the winner of our Autism Awareness Month Giveaway! Nell won a $50 Spa Week E-Gift Card. Thanks to Nell and all of our entrants.
[The drawing was completed using the Random.org Third-Party Draw Service. ]
You are probably wondering WHY I am having this giveaway.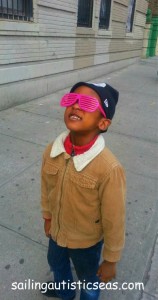 My reason: It is so hard for us to get time to relax. We give to everyone else but ourselves. So here is a chance to do something for yourself during Autism Awareness Month. I also want to THANK YOU for all your support since I started sharing my journey with Angel with you.
Now let us move on to the details:
The Prize: One $50 Spa Week e-gift card
The Rules
MANDATORY: In order for your entry to count you MUST leave a comment below. Feel free to share what Autism Awareness means to you.
Want additional chances to win?
Subscribe to us by entering your e-mail address in the right margin of the web site, so you can always get our latest updates.
Like us on Facebook at

https://www.facebook.com/autisticseas

Follow us on Twitter

https://twitter.com/autisticseas


and tweet: I just entered the Sailing Autistic Seas Autism Awareness Month Giveaway via @autisticseas
(If you submit any additional entries, then you MUST e-mail me at sailingautisticseasgiveaway@gmail.com stating the additional  entry you used and your e-mail address will be entered for each one. If you use all four entry methods then you have given yourself a MAX of four chances to win. )
 This giveaway ENDS at 12:00am EST  on Monday, April 8th, 2013. 
This giveaway atoledo.com is limited to entrants 18 and over in the United States who have access to any of the hundreds of spas  that accept Spa Week gift cards as listed at spaweek.com. Trust me there are hundreds of them nationwide!
Please use a valid e-mail address when you comment because it will be used by the Random.org Third-Party Service to pick the winner.
Your e-mail address will be kept private and will only be used to pick the winner and e-mail the prize if you are chosen.
The winner will be notified within 24 hours after the close of the giveaway
The winner will have 48 hours to respond or a new winner will be drawn.
Note that this giveaway is self-sponsored. We do not have any affiliation with Spa Week.
FYI: Spa Week is coming up (April 15th to April 21st) and you can get usually expensive spa treatments for only $50.
E-mail me at sailingautisticseas@gmail.com if you have any questions.
Thanks and good luck!
Miz Kp