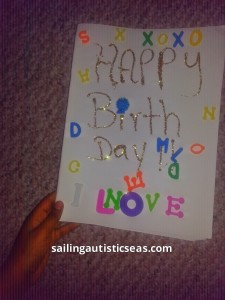 Today happens to be my birthday and just when you thought it would just be an ordinary day in March, the following happened:
Little Angel walks into our bedroom to wake me up and present me with a birthday card that he made in school. It was colorful. It was huge. Most importantly, he wrote his name on the inside and he had the biggest smile on his face.
I was tired as a grizzly bear but suddenly became widely awake. This really made this day special. Birthdays are important to our special needs community and our children need to know that they are eternally special to us.
Do you have any tips on how we can get our children involved in our birthdays and special celebrations? Please share in the comments.
Sincerely, 
Angel's Dad