Disclaimer: I was contacted by Dana Humphrey of Whitegate PR to review The Gift of the Ladybug. I received two complimentary copies of this book. The opinions expressed in this review are my own.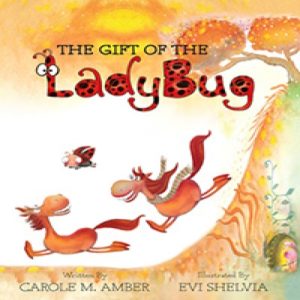 The Gift of the Ladybug written by Carole M. Amber is a short story, which takes readers on the emotional journey that two parents go through when they realize that their child is different. At first glance, one may think that this is a story strictly for children but it is actually a story that people of all ages can read and learn from. The use of vivid and imaginative illustrations in this story immerses readers into a world of hope, love, denial, sadness, and finally acceptance.
The horses in this story are deeply in love and they dream of having a baby colt. One year later, their baby is born and their love for him is endless. This same love blinds them to the fact that their boy is different. That is until they take him to the doctor and finally learn that their child is NOT a colt but a ladybug.
Being the doting parents that they are, they continue to love their boy who they named Polkadot to celebrate his ladybug qualities. They soon realize that they do not know much about raising a ladybug and decide to learn more. However, this knowledge leads to sadness and lots of tears as they realize all the things their ladybug will never be able to do.
One line that really struck me in this story was when Polkadot said, "Please don't cry… I don't know how to be a horse. I only know how to be a ladybug." So how do Polkadot's parents react? They realize that "Polkadot was meant to be a ladybug, and he was happy." Acceptance to this family means embracing Polkadot as he is and realizing that he is a gift. This story can also be used to help our children with special needs understand that it is okay to be different. So not only does this story help with parents' acceptance of their children but it gives insight into our children's own self acceptance.
What touched me about this book were the parallels I was able to draw from it as the parent of a child on the autism spectrum. When Angel was a baby, his dad and I were also hopeful. We also experienced denial after getting his diagnosis. We also tried to learn all we could about autism. We also cried as the reality of his diagnosis sunk in. We also looked at him and realized that no matter what, he was and still is a happy child. We also cherish that he is who he is. We also treasure all the lessons he is teaching us.
I give this book FIVE STARS. It was an enjoyable read that can be appreciated by readers young and old. Visit the Giftoftheladybug.org to learn more about the story behind the book and find out where you can get a copy.