(I am pleased to share this guest post with you by my good friend, NicksMommy, who is also a mom raising a son with autism.)
Having lived in New York City my entire life, I was very spoiled when it came to getting where I had to go with public transportation within arm's reach. I was one of those people that never wanted to own a vehicle, since it was an unnecessary luxury and just too expensive to own in the city. All of that changed when I became a parent.
A week before Nicholas was born; I purchased a baby seat even though I did not own a vehicle at that time. I spent about $200 on a car seat. I went into sticker shock but it was absolutely necessary. What I didn't realize was that before his first birthday Nicholas would outgrow the baby seat and I would end up spending another $200 to replace it.
I also quickly learned that cab drivers are not entirely receptive to having to wait until the car seat is secured properly – many times the cabs would just speed off as soon as they saw me standing by the curb with my bundle of joy strapped to his seat. Nonetheless I never travelled in a car without Nicholas being in a car seat or booster seat.
Eight years later I did it – I bought a car. Nicholas has autism and he has sensory needs, which prevent him from riding the trains and buses so the car purchase became a necessity and not a luxury. He does not use a booster seat because he is over the weight and height limit for it but he always wears a seat belt and I insist that everyone riding in the car wear their seat belts as well – it makes me a better driver and serves as a safety example for Nicholas.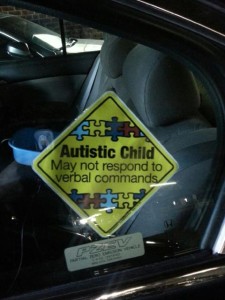 Child Passenger Safety Week is September 14-20, 2014 and National Seat Check Saturday is September 20, 2014. I offer you the following tips that have made travelling with my son both safe and enjoyable:
1. Make sure your child safety door locks are in working order! Nicholas can't help but play with buttons, so this feature is very important.
2. Consider a car sticker that reads "Child with Autism, May Not Respond to Verbal Commands" and an autism awareness license plate holder. I got these at Amazon and I've noticed that other drivers are a bit more considerate, especially since I do not speed. An added bonus – you can spread autism awareness year round!
3. Nicholas needs someone in the back seat with him at all times, he can get fidgety. I realize this is not always possible, but I find that it helps me keep my eyes on the road instead of having to check on him. I can also keep my eyes on the road instead of having to pick up the item that he just dropped and his having a meltdown because he can't pick up it.
4. Obtain a Handicapped Permit from your State. This permit allows me to park in designated handicapped spaces. The driver does not need to be handicapped to get one and children with disabilities can apply for the permit. Just don't abuse it and be considerate of others – if your child is not riding in the car, don't use it to park closer to the Mall entrance.
5. I keep a small treat box in the back seat with Nicholas – it contains a water bottle, juice box and his favorite snack at easy and quick reach.
6. Entertainment is a must – the Ipad and the DVD player are also in the treat box – fully charged!
7. Insist that everyone in your car use the seat belts, it's just safer for everyone.
8. Very Important, please don't speed – it's just not worth it.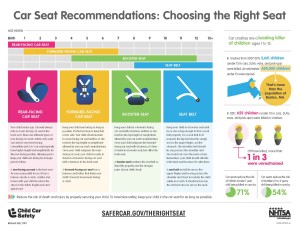 Please visit Safe Kids World Wide for more tips and information on how you can keep your child safe in a vehicle. If you life in NYC, please contact How to SAFETY, a NYC based health and safety education service, specializing in Child Passenger Safety: Contact@CarSeatTechnician.com.
You can find Marisol at, One Step Forward, Two Steps Back and on Twitter at @asdnicholasmom.
How do you keep your kids safe while driving? Please share in the comments. I look forward to hearing from you. 
Sincerely,
Miz Kp