Dear Fellow Parents of Children with Autism,
I need to share some thoughts that have been weighing on my mind recently. How will our children feel if they knew that their autism diagnosis has caused us to cry or that sometimes it can be challenging for us to deal with at times?
As I publish more blog posts, I have been getting some enlightening feedback from adults on the autism spectrum. Some of them have disagreed with the way I have phrased certain things. For example, in my last post, I  described autism as a grim reality. One reader took exception to my choice of words and commented:
"It also makes autists feel bad. This isn't always about you or other parents. Think about how your son would feel if you described it that way in front of him as an adult. His life has been a grim reality for his mother. That's a lot of negativity and guilt right there."
This prompted me to take another look at the word grim in Webster's Dictionary. According to Webster, grim is defined as: 1. fierce in disposition or action: savage; 2. stern or forbidding in action or appearance <a grim taskmaster> b: somber, gloomy.
After reading these definitions, I immediately deleted "grim" from my post. This reader made a very good point. Angel's diagnosis has not made our lives somber or gloomy. His disposition is not fierce and there is nothing about him that is forbidding in action or appearance. He is a sweet and loving child who we all love dearly.
Parents with a child on the spectrum will always have a different perspective from their child. Yes, we try our best to understand what our children are going through daily but all we can do is guess.  However, there are times we will get caught up in the emotions that come along with having a child on the autism spectrum. I admit that and realize that parents like me have to be more mindful of this.
I am learning everyday that Angel's diagnosis is not about me. I am not implying that as parents we should not feel sad or frustrated as our children struggle to navigate the world around them. I am just saying we need to count our blessings as well.
Another person on the autism spectrum asked me not to infer the motivation behind my son's behavior and what he is experiencing in his mind based on how I interpret his behavior.
Parents, I want you to pause and think about this.
We really have to avoid rationalizing why our children act a certain way based on our worldview of children's behavior patterns.
So as blogger moms and dads, how do we avoid these things? How do we gain a deeper understanding of what it is like to be a child with autism?
As a parent, I think it is okay for us to feel sad at times and it is also okay to walk our path to acceptance. At the same time, we need to rejoice in our children's strengths. We need to remember that they are functioning to the best of their ability. We need to keep in mind that with our help and the right interventions their lives can improve.
I am working on staying true to my feelings. I know that my working on my Web site has been therapeutic for me. Yet, I know I have to be mindful of Angel's feelings as well.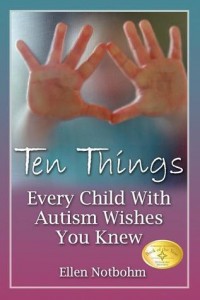 As I sign off, I want to leave you with a wonderful video that a fellow parent shared with me on twitter. It sums up some of the things that parents like myself have to always remember. Please watch and share. I also just learned that there is a book with the same title, "Ten Things Every Child With Autism Wishes You Knew."
I am interested in hearing your feedback on this.
Sincerely,
Miz Kp
Comments
comments