Today is the first day of school for Angel. Our morning started with us waking him up at 5:45 am. This is a very ungodly hour to wake up  six-year old but we had no choice. According to the NYC DOE's Office for Pupil Transportation, Angel's pick up time was supposed to be 6:45 am.
So, we hurried up. Gave him breakfast. Packed his lunch. Got him ready.
Then at 6:39 am, the driver called and told me that the pick up time will be 7:15 am pending traffic. You know… because it is the first day. So we had to take Angel's jeans and pull ups off while we waited. (Yep we are putting pull ups on him to ride the bus this week. The time limits are too unpredictable to risk an accident.) Next, we headed downstairs to wait at 7:09 am. I had my notebook, pen, and cell phone ready. You know… to document everything.
The driver actually arrived at 7:19 am.
In a perfect world, buses are supposed to get to the school by 8:45 am to allow 15 minutes
between arrival time and when class begins at 9am.
I was so busy introducing myself to the driver and matron that I almost forgot to give Angel his backpack. I also almost forgot to snap another pic, so I climbed onto the bus and snapped one of him as he settled into his seat. The driver asked me for the Emergency Contact form that OPT was supposed to send in the mail for me to fill out. I never received one. My gratitude for OPT is overflowing at this point. Insert eye roll here ____________.
There were two other kids on the bus. They seemed older. We are so used to Angel being the first pick up, so this is the first time that we got to see other kids on his bus. Now he is the third pick up. Thanks for letting me know OPT. smh… Before they drove off, I asked the driver about Angel's drop-off time. He had no clue. Looks like he will be winging it this evening. Good times.
The driver-matron duo seem like a nice pair. This is my attempt at optimism, especially since we do not have Miss Grumpy and Mrs. Grumpier from this past summer. I plan to call the school to document Angel's arrival time. I am holding OPT's feet to the fire once again. Everything will be documented regarding busing. It is about time they got things right.
Wishing you and yours a HAPPY FIRST DAY OF SCHOOL!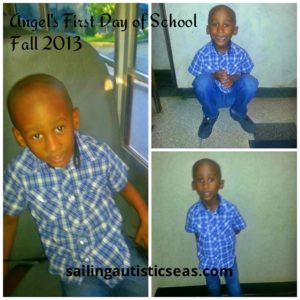 How did your child's morning go? Share your thoughts in the comments and e-mail me for documentation to track any school busing incidents here is NYC.
Sincerely,
Miz Kp
Comments
comments