I am not very good at goodbyes. I am usually a blubbering, crying mess. This past Friday was Angel's special education teacher, Mrs. S. last day. She is moving to another state and will be teaching at another school. When I first heard the news, I went through a series of emotions including shock, sadness, and fear of the unknown. The fact that this was happening in the middle of the school year did not help either.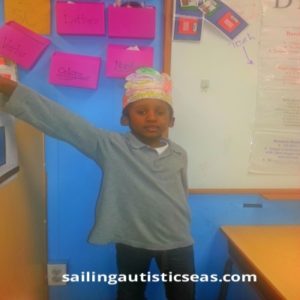 Here Are The Five Reasons Why I Will Miss Angel's Special Education Teacher:
Her Skills: Mrs. S. is studying to become a Board Certified Behavior Analyst (BCBA). Angel thrives in an ABA learning environment, so having a teacher who was going the extra mile to perfect her skills was definitely a plus. Mrs. S. also took the time to develop and prepare the aides in her class to work with all her kids. She created a fun classroom with schedules, a break area, sensory toys, and everything to help children on the spectrum thrive.
Her Compassion: Mrs. S. was the teacher who would buy toys and materials for her kids out of her own pocket. Hugs were abundant in her classroom and all her kids loved her, including Angel. During our last meeting, she started crying and told me how much she loves Angel and hopes we stay in touch because she cares about him and his future. As her tears flowed, my eyes began to water. The tears continued when she told me that she got all the kids, including Angel these really cool hats for Christmas. She even started to recall some of the things she loves about Angel, including that he always asks for tickles.
Her Way With IEPs: The

IEP process

went smoothly when working with Mrs. S. Yes we had our moments when we did not agree on certain aspects but we were always able to come to a compromise. Her goals were always well written and she embraced my input as it should be. She understood the parent's role as a member of the IEP team. She also

advocated

for Angel and this I appreciated. Before she left, she told me she plans to ask Angel's new teacher to have her look over his goals. She wants to make sure they are accurate and what we agreed on. She also wants to ensure that nothing slips through the cracks because this new teacher is starting a month and a half before our IEP meeting. This new teacher will just be learning who Angel is. Mrs. S. also advised me on some things to look out for at my next meeting.
Her Way of Communicating: I always knew what was going on with Angel in Mrs. S's classroom. She always took the time to write in his communication book. We went through several notebooks over the past year and a half. She always called me when Angel had an accident at school because she understood that he did not have the language to explain what happened and she did not want me to worry.
Her Belief in Angel: This was supposed to be Angel's last year in Mrs. S's classroom. She wrote down the numbers of the two classrooms that she thinks will be appropriate for him. I really appreciated this because it helped me feel more comfortable about the transition. She also told me that she believes that Angel can one day thrive in a least restrictive school environment. She believes in his potential and how much he has learned over the past year. She even mentioned how much his behavior has improved. His ability to attend still needs work but there has been improvement.
After our meeting, I left feeling sad that Mrs. S. is leaving but I also left feeling optimistic about the future of my son. I wish Mrs. S. all the best and I hope she knows how blessed her new students will be to have her.
Has your child ever lost a teacher in the middle of the school year? How did you handle it? How did your child handle it? Share your thoughts in the comments. I look forward to hearing from you.
Sincerely,
Miz Kp