If you are a special-needs parent, then you know that we are often inundated with piles of paperwork. Regardless of your child's diagnosis, I am sure that you can relate. Sometimes it is a struggle for me to stay organized, so I asked other special-needs parents online to share how they keep everything together. (I have also included some of my personal strategies.)
Paperwork
Where should I keep my child's documents?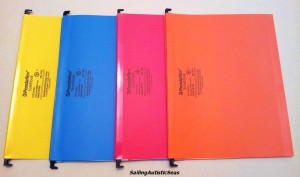 Good old-fashioned file folders and labeled tabs work for me and for other parents as well. If you want to get fancy, you can buy them in different colors and color code your system. These folders can be found at any office supply store or online. They can be stored in a file cabinet, a rolling file cart, or even a banker's box.
I file Angel's documents by type and in the order received. For example: all Individualized Education Programs (IEPs) go in one folder and all quarterly-progress notes go in another. Do what works for you but make sure your documents are easy to locate when needed.
Some parents find it helpful to scan and save documents on their computer or on a mobile device. I scan every document I receive for Angel and save them as PDFs in my e-mail and on my flash drive. Another parent scans all of her son's important documents and saves them on her IPAD using the Documents to Go App. Having documents on a mobile device is great because it gives you access no matter where you are. You can also create a folder or several folders on your computer's desktop to save electronic versions of your child's paperwork.
 Meeting Preparation
What is a good way to get organized  for  IEP meetings?
I keep all the documents that I will need for an IEP meeting organized in a three-ring binder. Each document is placed in a clear sleeve within the binder. Labeled tabs keep me focused, so I am not frantically flipping through papers during a meeting. I also have an 8×10 photo of Angel in the outside sleeve of my binder. Why? So everyone at the meeting table can be aware that we are discussing a real person and not just a name on a piece of paper.
What do I have in my binder?  Multiple copies of Angel's last two IEPs, quarterly-progress notes, evaluations, letters from our school district with postmarked envelopes, etc. I usually annotate my personal copies with points that I need to remember to bring up. [SIDE NOTE: Always save the envelopes that come with the letters that you receive from your child's school and the Department of Education.)
Dates and Contacts

How can I keep track of important dates and contacts?
I use multiple methods to keep track of dates. I have a  wall-mounted dry erase calendar at home. It is marked up with important appointment dates, which keeps everyone aware of what's coming up.
I also use my smart phone calendar and address book. I have to admit I would be lost without these features on my phone. The calendar feature on your cell phone or IPAD can be used to keep you on track and provide much needed reminders. Some parents use a diary, date book, planners, or organizer to keep track of dates and contacts. Whether you choose the paper or digital route, make sure that your method matches up with your lifestyle.
Routines
Let me confess something to you now. My routine is in my head. My mom created the schedule shown below to help Angel with his morning routine. Now we have to create a visual/picture schedule to take Angel through the rest of his day and night.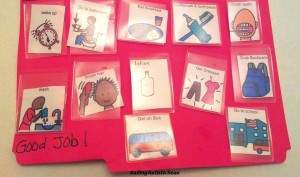 Another parent mentioned the importance of prioritizing chores at home. I can certainly relate to this.  As a working mom, I try to pack a lot into my weekends. There are not enough hours in a day to complete everything.
I save a lot of time in the morning by doing my preparation ahead of time. My mom always told me that we start getting late from the night before.
Here are some other tips that some special-needs parents shared that can help us keep it together:

Learn to say No.
Know when to ask for and accept help. (If you do not have a support system, then it is even more important to organize everything. This can help you reduce stress and prevent you from feeling overwhelmed.)
Give yourself a break.
Manage your time effectively.
Tackle your to-do list in increments to make it manageable.
Adapt priorities based on the special needs of your child.
How do you stay organized? Please share your ideas. I am sure there are other parents, including me who could benefit from them.
Sincerely,
Miz Kp