(I am pleased to share this guest post with you by my good friend, NicksMommy, who is also a mom raising a son with autism.)
Avonte Oquendo is a 14-year old boy with autism.  It has been over two weeks since this young boy in Long Island City was allowed to walk out of his school – he has not been seen since.  According to several reports, he is a non-verbal autistic boy who was in a 6:1:1 class with a teacher and paraprofessional. Avonte needed the extra supervision because he has a history of running off. For reasons unknown, he was able to leave the presence of his paraprofessional, his teacher, and the security guard on duty and walk down several flights of stairs and out of the school building.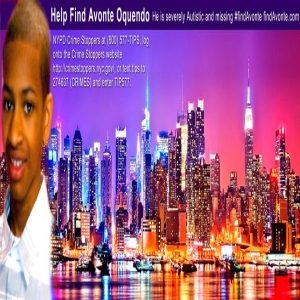 His mother was not notified of his disappearance from school until more than an hour had passed – enough time for him to disappear. I write about this boy because I have a seven-year old son with autism and in my circle of friends I have over seventy parents of children who have been diagnosed with autism.  We have all been following this story and wondering how this could happen – what went wrong and how can we keep this situation from happening again. Avonte's story is just one of many that illustrates what can happen when the people who are put in charge of our children do not follow through with their responsibilities.
If I was going to organize a group of people to make systemic change, I would start by bringing together the parents of children diagnosed with autism because our children, especially the ones who are on the severe end of the autism spectrum, need us to protect them and fight their battles.
Here are some of my ideas:
Training for Law Enforcement: We will require that law enforcement officers are properly trained in how to handle children who are on the spectrum or who have other development disabilities.  Currently on the New York City Police Department Web site, there is no information available for cases involving special needs children. Additionally, law enforcement officers should be trained in the proper way of approaching parents of children with special needs.
New Alert System: In cases such as Avonte's, there should be a system in place similar to the Amber Alert System – where information about a missing child with special needs is immediately dispensed to the public, within minutes of the disappearance.
Special Law Enforcement Unit: A special unit of officers especially trained to work with special needs individuals should be immediately called to duty to secure the area where the child was last seen.
GPS or Tracking System:  We need an affordable and easily available GPS or

tracking system

for children on the spectrum.  People put tracking devices on cars, their pets and their phones. These are things that can easily be replaced.
State Laws and Regulations: We need state laws and regulations that hold people accountable for purposely abandoning their duties and putting children in harm's way. There must be consequences for failure to protect our children.
Training for Paraprofessionals, Bus Drivers, and Bus Matrons: We will demand that paraprofessionals, bus drivers and matrons are properly educated and trained and that they undergo a rigorous certification process before they are allowed contact with our children.   In return for their service, the paraprofessionals, drivers and matrons will be entitled to a wage that is suitable for their position and they will be entitled to job security and pensions, but they can also be terminated for shirking their responsibilities, or mandatory prison time for physically harming a child.  A few weeks ago, a

male bus matron was arrested

for breaking the arm of a five year old boy who would not stay in his seat.  This man was obviously not trained to work with special needs children.
It's been over two weeks since Avonte walked out of that school.  It is starting to get cold. He walked out of that school in his school uniform – pants and a shirt, no jacket, hat or food.  And most importantly, we walked out without a voice. There must be a way to prevent this tragedy from happening to another child. We need to reach out to our congressmen and lawmakers and convince them that our children need these protections.
If you have any information about Avonte, please call the NYPD Crime Stoppers at 800-577-TIPS. Recent news reports put the reward for his safe return at 90K.
What would you add to this list of ideas? Leave your thoughts in the comments.

Sincerely,
Miz Kp