Last night, I learned via Twitter that J.Cole apologized for his offensive lyrics in his song with Drake called Jodeci (Freestyle). The song is offensive on so many levels but I will concentrate on the impact it had on the autism community.
Bloggers and autism advocates, like me wrote about it. There was a change.org petition, which was started by Anna Kennedy and the Anti-Bullying Alliance. This petition demanded that J. Cole and Drake apologize to the autism community and change the lyrics to the song. As of this morning, Kennedy's petition had 4,522 signatures and was just 478 signatures shy of its goal.
Actress and autism advocate, Holly Robinson Peete, spoke out about it as well. Russell Lehman, an autistic poet, also released a spoken word response. Lehman tweeted me and many others last week, asking us to please retweet his response. I did.
Word on the street is that it was really when Lehman's spoken word response blew up on World Star Hip Hop that J. Cole finally took notice and apologized. Note that it took J. Cole about a month since the song's release to issue this apology. So far we have not heard anything from Drake whose song J. Cole appears on. (See my Drake update below.)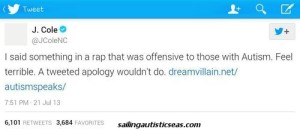 J.Cole is not the first celebrity to offend a specific demographic. He is certainly not the first to apologize because of it. Remember 50 Cent last year? So where do we go from here? Do we put our swords away and retreat to our caves now that J. Cole has apologized? What is there to stop the next celebrity or public figure from using autistic or the r-word as an insult? What is there to stop your neighbor, friend, or family member?
J. Cole's apology has received mixed reactions from parents of children with autism and autistic adults. Many praise him and thank him for apologizing. Yet some parents are not convinced and want him to do more. One parent on Facebook suggested that he does a commercial against bullying or even start an organization to help people with autism. Will J. Cole be willing to put in the work? I am not sure.
For the record, I do accept J. Cole's apology regardless of his motivations for issuing it. Why? Because the actual apology will reach millions and hopefully deter them from doing what he did in the future.
So to move forward I propose:
A televised PSA campaign featuring celebrities like J. Cole, Drake, Bill Maher and others who have used the r-word or autistic as an insult. I would ask Ann Coulter but that would be expecting too much. Think of how powerful it would be for this PSA to feature celebrities and people from all realms of the autism spectrum. This PSA would seek to educate the public about autism and how words can hurt. I know there is an r-word campaign and now we need one for autism.
Misinformation and ignorance gives rise to these slurs. I doubt J. Cole would've written these lyrics if he knew someone on the autism spectrum and understood what their life is like.
UPDATE: On Monday night July 22, Drake issued the following apology from his October's Very
Own Blog:
"J.Cole wrote a beautiful and moving apology to individuals and families affected by autism who were understandably hurt by a verse in "Jodeci Freestyle". I share responsibility and offer my sincerest apologies for the pain this has caused. Individuals with autism have brilliant and creative minds, and their gifts should not be disparaged or discounted. This was a learning lesson for both of us, and I'm grateful for the opportunity to try to right this wrong. J. Cole and I believe that it is the right, responsible, and respectful decision to remove the lyric from the song."  Posted by Drizzy at 9:17 PM
Share your thoughts in the comments below.
Sincerely,
Miz Kp
Comments
comments