BlogHer'12 has come and gone. Now, I am left with tons of business cards to sort, bags of swag to enjoy, session notes to decipher, and most importantly an expanded network of wonderful bloggers.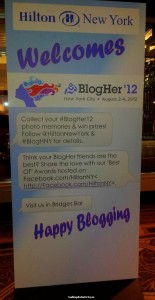 This was my first BlogHer conference, so let me share some of the things that I learned over the past few days.
My first day at BlogHer'12 started at HealthMinder Day. If you are a special-needs writer or blogger like me, you absolutely have to attend HealthMinder Day.
I attended sessions led by some outstanding special-needs bloggers, including Ellen Seidman, Julia Roberts, and Susan Senator.
Our sessions explored topics, such as Blogging about Your Special Needs Child, Becoming an Expert Advocate, and Overcoming Burnout: Replenishing Your Reserves. We learned from each other, shared our experiences, and yes we even cried during these sessions.
I also learned the importance of using humor to cope with people who stare at Angel when we are in public. I learned how important it is for me to take care of myself and to make sure that Angel is taken care of when his dad and I are no longer around.  I am glad that we had these panels. I hope for more at the next conference because our community of special needs bloggers is growing.
By the second day, I felt like a BlogHer conference pro. I attended sessions that explored working with brands and pitching media outlets. I learned that I can do these things and still remain true to myself and my niche. I left asking myself: How can I effectively share Angel's journey and highlight issues in the special-needs community?
The session on Leveraging Facebook and Twitter was an eye opener.  I am now ready to utilize these tools effectively and grow my social-media presence.
The third day was my day to go tech. I attended the session on Advanced SEO for Bloggers. Mind you, I knew what SEO meant but I am hardly at an advanced level. Honestly, I am at the level below basic but I was up for the challenge.
My next session focused on Strength in Numbers: Forming and Using Online Organizations to Make Change. I learned a lot from some inspiring women on the differences they are making in the world through grassroots efforts and via the internet.
Lastly, I attended the session on How to Make an App. When I heard that it could cost between 80K and 140K to make a native app for my Web site, my brain shut down. I am not giving up on this but just shelving it for now. I did learn that most consumers of web content will soon be getting that content via mobile devices. I need to figure out how I can be on top of this growing trend and use it to share my message.
I admit that I left this session half way through and joined the session on How to Price and Value Services. I am glad that I did.  I came out realizing the importance of knowing my worth and being able to quantify what I am offering.
Miscellaneous Stuff
Bring business cards. If you are a blogger and do not have cards, get them now. You can get the fancy ones for networking and some cheap ones to drop in the fish bowls for giveaway entries.
Get to your sessions 15-minutes early. They fill up fast.
Attend the keynote addresses. Where else can you get inspired by speakers, such as President Obama, Dr. Pamela Peeke, Katie Couric, and Soledad O'Brien?
Make sure you have a Twitter account. Twitter was the absolute best way to stay connected with fellow bloggers and to read highlights from various sessions, events, and speeches.
Bring a bag with wheels to the conference. Why? There will be tons of swag and you will need somewhere to put it all without getting cramps in your hands and shoulders.
Bring your phone, IPAD, or laptop charger. With all the data being consumed, these devices will die a thousand deaths and your charger will be a lifesaver.
Wear comfortable shoes.
Book a hotel room even if you live in the same city as the conference. Even though the conference was in New York and I live here, I could've saved a lot of time by not having to commute back and forth.
Be social. I met some wonderful bloggers, brand representatives, and media professionals by initiating conversations. I surprised myself because starting a conversation with a stranger does not always happen naturally for me.
Enter as many contests as you can. You never know, you just might get lucky like I did.
Double check your conference booklet to ensure you received your free drink tickets. The Hilton drink prices were ridiculous.
Don't even think about counting calories. I do not remember the last time I ate so much great food but I have no regrets.
Be ready to party.
My BlogHer'12 experience was wonderful and my preparation for BlogHer'13 Chicago begins. By God's grace, I will be there.
Did you attend BlogHer'12? Please share your experience. If you did not, do you plan on attending next year?
I look forward to hearing from you.
Sincerely,
MizKp