I remember when we took Angel to get his two-month old shots. I remember standing in his pediatrician's tiny office as she brought the injection needle near his little brown thigh. I remember holding my breath. Poor Angel! He had no idea what was coming. He was the true picture of innocence. As the needle pierced Angel's skin, he did not cry right away but within a few seconds he let out a wail that I will never forget. I remember how my heart grew heavy as tears streamed down my face. I remember thinking that this is what it feels like to love someone else unconditionally. At that moment, I felt my son's pain.
I am sharing this story to let you know that I love my son unconditionally. I love him and yet I have spent Mother's Day after Mother's Day feeling sorry for myself. There have been no unprompted Happy Mother's Day greetings from Angel. There have been no cards and pictures that he made without help.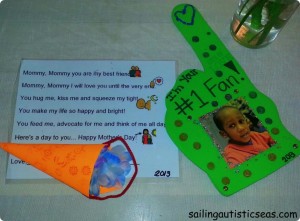 This Mother's Day, I will make a conscious effort to adjust how I think. I will not feel sorry for myself this year. I will not spend the day wallowing in self pity. I will not spend the day comparing Angel to typical kids his age who can make cards and presents and wish their mothers Happy Mother's Day!
I will focus on the fact that my son loves me— unconditionally.
When Angel wraps his little arms around my neck and says, "Hug? Hug? Awwwww." I know that he loves me. When he smothers my cheeks with kisses, and says "muah," I know he adores me.
Angel has taught me to pay closer attention to the nonverbal ways of expressing love, the "action" ways. You know, the ways that go beyond symbolism and words.
I admit that I am a work in progress. However, part of accepting my son and everything that comes with his autism diagnosis is realizing that he is who he is and I have to adapt.
He may not understand Mother's Day and what it means but I will take meaning from the ways he show­­s love toward me every day.
Happy Mother's Day! to all the wonderful mothers and grandmothers! You are a true blessing. Hope you have a wonderful and blessed day!
What does Mother's Day mean to you? Please share your thoughts in the comments below.
Sincerely,
Miz Kp