Stand Clear of the Closing Doors seeks to raise awareness about autism and the impact it can have on the entire family. The film follows 13-year old Ricky (played by Jesus Sanchez-Velez) who wanders into the NYC subway system days before Hurricane Sandy hits. Like the character he plays, Jesus is also on the autism spectrum and this cast choice brings an authenticity to his role that will resonate with anyone who sees this film.
The film highlights what can happen when there is a lack of support for families of people with disabilities in the home and school environments. As a parent of a child on the autism spectrum, I looked forward to this film. Emotions are still raw in our city after what happened to Avonte Oquendo. In this regard, I was curious to see how the issues of wandering, school accountability, and police involvement in search efforts for minorities would be tackled.
During the film we meet Ricky's mom, Mariana who is an undocumented immigrant struggling to take care of her family. His dad, Ricardo Sr. comes into the picture days into the search for Ricky with nothing to show for the "job" that he works upstate. It was obvious that Mariana was carrying the lion share of raising their children, which was no easy feat. When Ricky disappears, Mariana blames his sister Carla. She fails to realize that Carla was also struggling with her dad being mostly absent and feeling like her life was being "consumed" by Ricky.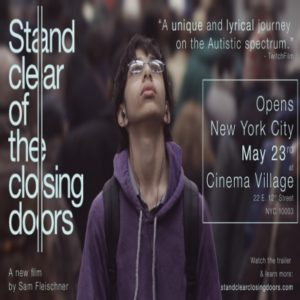 The police detectives' haphazard search efforts for Ricky were laughable. It cast a blinding light on the little effort that is put into finding missing minorities. The scary part about this film is that an unsupervised child was able to easily wander from his home environment into the NYC subway system for days. He was soiled, hungry, and lethargic and only one person asked if he was okay.
I will admit that there were parts of the film where I needed to suspend my belief. I came out with many unanswered questions that even the post-film Director and Cast Q&A could not clear up. I will only share one of them to avoid including spoilers. What was the meaning behind the guy with the purple sneakers and dragon jacket?
I encourage anyone interested in seeing this film to check it out and take what you can from it. Just do not go in with high expectations.
Have you seen Stand Clear of the Closing Doors? What are your thoughts on the film? Please share. I look forward to hearing from you.
Sincerely,
Miz Kp
Disclaimer: I received six complimentary tickets to see this film with members of my autism parent support group. All opinions are my own.