There is something about the end of March. This is when everyone in the autism community and media are gearing up for Autism Awareness Month. Today the CDC released a survey stating that 1 in 50 school- aged children are on the autism spectrum. Some say that this means it is being diagnosed more and not necessarily occurring more often. Whatever it means, the prevalence is real. The most recent estimate was at 1 in 88.
What irks me about this survey is not that it was done but that I have no idea what it translates to. Does this mean that more federal dollars will be allocated to help families who have children with autism? What about the adults on the autism spectrum? Let's not forget them. They still need support and services.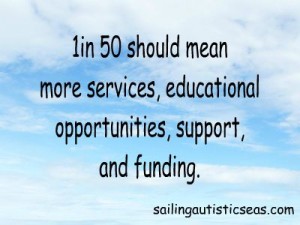 Does this survey mean that more studies will be done to find what why the numbers are growing? Does this survey mean that more state dollars will be allocated to give special education students a good (not just appropriate) education? Does this survey mean that I won't have to fight for every little crumb, so my child can grow up to be as independent as possible?
I have a lot of questions. So let me share with you what I believe my child needs and what we need as a special needs family. I am sure many of you can relate.
•    We need school districts that are well funded to provide outstanding services and education.
•    We need a major reduction in the disparity in access to services based on economic and sometimes racial backgrounds. I live in the Bronx (predominantly Hispanic and African-American neighborhood). I should not need to go to Brooklyn or Manhattan to get good services. I know for sure that I should be able to find a good school in the Bronx for my son.
•    We need autism insurance laws nationwide that are mandated for public and private health insurance. I always hear about new laws being passed but we need to read the fine print.
•    We need physicians, dentists, and psychiatrists who take insurance. This will really help us because we won't have to pay ridiculous amounts out-of-pocket because our child can't be taken to regular medical professional.
•    We need support for adults with autism as well. The need for support and services does not end when our children age out of the special education system.
•    We need more support for parents and by this I mean mental health support, respite, and better access to resources.
•    We need autism to become a part of the national conversation (not just in April).
•    We need provisions to be put in place to deal with this growing population.
Before I sign off, I have to ask: Is it okay to call it an epidemic yet? How low do the numbers need to go? 1in 30? 1 in 20? 1 in 10? 1 in 5?
The list of what we need goes on. Please feel free to add to it in the comments below. I look forward to hearing from you.
Sincerely,
Miz Kp