Angel's weekends are usually jammed packed with activities. We try to keep him as busy as possible because it is great for his personal growth and it prevents him from bouncing off the walls with boredom. Today we took him to the playground on the way to swimming. We needed to pass some time because if we got to swimming too early, Angel would've had a meltdown. He hates waiting. He hates waiting even more when what he is waiting for is right in front of him.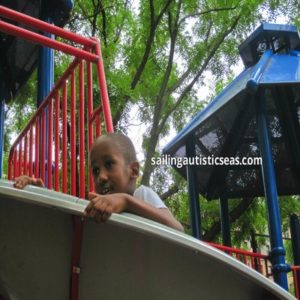 When we got to the playground, Angel ran to the sprinklers then he made a bee line for the slide. At the top of the slide, he saw these four little girls chatting with each other and he moved closer to stand next to them with a huge smile on his face. He did not touch them and he did not talk to them. Suddenly one of the girls sneered at Angel and said, "Leave us alone!" Angel did not move. He just stood there smiling.
Tears came to my eyes. Maybe I am overly emotional when it comes to my son but hey it is what it is. I did not want to wait to hear what they would tell Angel next, so I called him to come over to me.  I am not sure what parents are teaching their kids these days but some parents need to teach their kids how to show kindness to others. They need to teach their kids the golden rule.
I know that the real world is tough. Everyone will not like Angel or be nice to him. I also know that I can't hide him from everything. Still it is hard. I want my son to make friends and be accepted. What parent does not want the same for their child?
What do you do when other kids are mean to your child? Please share your thoughts in the comments. I look forward to hearing from you. 
Sincerely, 
Miz Kp