As parents of children with autism the chances of losing a child is a scary thought but wandering is real in our community. Many autistic children have a tendency to wander or run off without any notice when they hear certain sounds or find something interesting.
I have been a strong advocate for keeping our children safe and over the past few weeks several manufactures of tracking devices have reached out to me to figure out how they can get their products out to parents. I have been open to working with them because I know it will take a combination of devices and methods to keep our children safe. I have also been honest with them because I know first-hand that not all devices are suitable for all children on the spectrum.
When My Buddy Tag reached out to me, I thought it would be a great idea to do a Christmas Giveaway for my subscribers to give TWO parents a device that can help bring them some peace of mind. Two lucky subscribers will have the chance to win this Giveaway.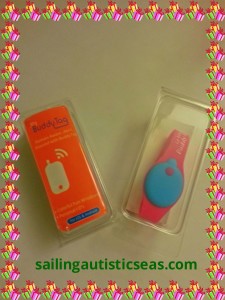 So what is My Buddy Tag?
It is a child-tracking wristband equipped with Bluetooth technology that pairs to a custom app for Androids and iPhones. The FREE app alerts phone users when the child is out of proximity and sends an e-mail with their location when they are completely out of range. My Buddy Tag also launched an app for teachers to keep a close eye on their students, especially those who have trouble communicating.
Additionally, My Buddy Tag can be removed from the wristband, secured in a child's pocket and still provide accurate tracking. Some autistic children are sensitive to wearing jewelry and the wristbands may irritate them.
For more information on the My Buddy Tag, please click here.
HERE IS HOW TWO OF MY LUCKY SUBSCRIBERS CAN WIN A MY BUDDY TAG:

MANDATORY: Subscribe to Sailing Autistic Seas by clicking

here

. (Note that you will also receive a Free copy of my E-BOOK: 6 THINGS YOU SHOULD KNOW WHEN YOUR CHILD IS DIAGNOSED WITH AUTISM when you subscribe.) You must SUBSCRIBE for your entry to count.
Post a comment below sharing why the My Buddy Tag will benefit your child.
For additional chances to win:
1.   Follow me on twitter – @autisticseas and tweet: I just entered the My Buddy Tag Giveaway on Sailing Autistic Seas with the hashtag #SASgiveaway
2.  "Like" the Sailing Autistic Seas on Facebook and leave a comment stating: I just entered the My Buddy Tag Giveaway on Sailing Autistic Seas.
Rules 
Open to residents of the continental United States who are 18 and over.
Every time you enter, you MUST subscribe and post a comment. If you are already a subscriber, then you are automatically entered.
This giveaway will end Thursday, December 26th at 11:59pm EST. The winners will be announced via Twitter and Facebook on Saturday, December 28th. I will also contact the winners via email and you will have 24 hours to reply.
Comments will be numbered in the order they are listed and a random number generator (random.org) will be used to select the winner.

Disclaimer: I did not receive any financial compensation for running this Giveaway. I have also not personally tried to device. I received two of these devices from My Buddy Tag and wanted to share them with other parents of children with special needs.
GOOD LUCK!