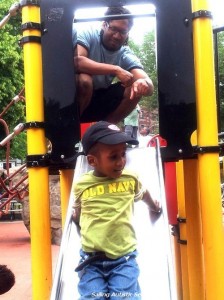 I really used to think that I might have done something bad or wrong to cause Angel's autism. However, I realize that I am not alone. I also realize that I am somewhat fortunate because there are others in far worse situations than me.
A few weeks ago, I was asked if I wanted to go to the NYC "Dads to Dads Father's Forum" for dad's with children on the autism spectrum. The forum was held by Parent to Parent of NYS.  I looked at the opportunity with an open mind and gladly accepted. I must say it was a touching experience. I never knew that there were such a large number of children growing up with autism.
As a dad, I never hear, see, or notice a large male presence in the matter…until that day.  I was one of 15 men sharing and listening to stories about how they found out that their child was on the autism spectrum. Little did I know that many other dads, like me, feel somewhat awkward about being a dad of a child with autism.
One story that really touched me was about a guy who I will refer to as "Jeremy." Jeremy has two kids. The older child has autism and the younger child is "typical."  Jeremy told us about a trip he and his older child took to the barbershop for his son to get a haircut.  The child was having temper tantrums and Jeremy was having a difficult time trying to calm him down. It was so bad that all the barbers turned their backs on him and refused (in silence) to offer to cut his son's hair.
Jeremy swallowed his pride and asked the barbers if anyone would please give his child a haircut. He was told that the boy had to keep still and stop making noise or they won't do his hair. The barber spoke with such callousness and apathy that Jeremy literally felt broken.
That day he told his boy, "Son, no one will ever say NO to you again. I will continue to fight for you for as long as I live.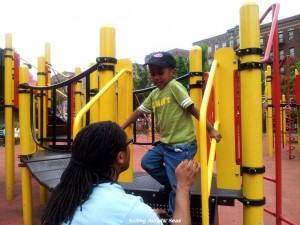 Everyone deserves to have an opportunity to have something as simple as a haircut!"
This story and my experience at the forum really moved me. I was congratulated for showing up that day and it wiped away the tears that would have come down my face.
Honestly, there is so much more to say about how I feel about my son's diagnosis but I am truly speechless and full of words at the same time. I will never see a child the same way again.
Thanks for listening.
Angel's Dad