After what happened last week, Angel finally got to see Finding Nemo at the AMC theater at Bay Plaza. He had a great time and for that I am pleased.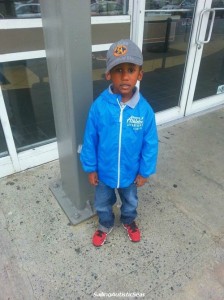 When the general manager of the theater told me, last week, that he is a " firm beleiver in making things right,"  he was not kidding. The sensory- friendly 2D version of Finding Nemo was offered to families of autistic children for FREE today. We were also treated to free kiddie-sized bags of popcorn.
Once again, members from the Bronx chapter of the Autism Society came out and they made sure everyone was comfortable and ready to enjoy the show. They also gave each family a goodie bag as we were exiting the theater.
The availability of sensory-friendly movies are a God-send to families of children with special needs. It is one of the times when our children can be themselves in a judgement- free zone.
Kudos to the staff at the AMC Bay Plaza for making things right. I thank you. Angel thanks you and all the families who attended thank you.
Have you taken your child to the movies? Was it sensory-friendly? What was your experience? I look forward to hearing from you.
Sincerely,
Miz Kp