Every afternoon, Angel's school bus matron calls to let me know that he will be home in two minutes. She takes the initiative to do this because she knows that his arrival time can vary. I really appreciate this. After Hurricane Sandy, our school bus driver called us the night before schools were scheduled to open to confirm whether Angel would be going to school. I appreciated this also.
We have a special relationship with Angel's school bus matron and driver. I know that when Angel is with them he is safe. I take comfort in knowing they care. They are experienced and they know how to handle him. This matters a lot to us as parents of a child with autism.
Angel's commute to and from Brooklyn every school day is about 29 miles each way. Yes, I know his commute is long. However, these are the things parents of special education students have to deal with for our children to have an appropriate education in New York City.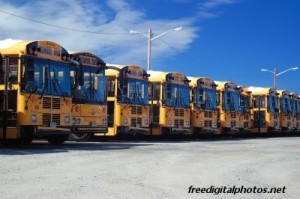 Yesterday, my heart sank as I listened to Michael Cordiello, president of ATU Local 1181 say that the school bus drivers will be going on strike this Wednesday. Our children with special needs go through enough already, so this will be a nightmare.
If you are not familiar with this saga, then you are probably wondering about the reasons for this strike. In a nutshell, the unions want new contracts with employee protection provisions and the NYC Department of Education is saying that these provisions are illegal as deemed by a court of law. So they are at a stalemate with no real negotiations taking place. I will not go into detail about who is right or wrong or even provide more details about why they are striking. You can get that from any news article online.
As a parent, I have to think about the direct impact that this school bus strike will have on my family. How will we get Angel to school? We rely on the school bus especially because of the distance that Angel has to travel to school each day. It spares us the expense and the time to reroute our trips to work.
The subway and bus ride to Angel's school is two hours each way. Yes, the DOE has stated that they will provide metro cards and reimburse for car travel but we have to have the money to spend before we can be reimbursed. It costs approximately $40 by livery cab to Manhattan from our part of the Bronx. I can only imagine the cost to Brooklyn by cab.
We are working parents. Who will reimburse us for time lost from work to take Angel to and from school everyday? Metro cards sounds good on paper but it is not a feasible option for us. Angel just can't handle the subway ride for such a long commute. I am not able to cut into my work hours to take him to and from school. Angel's dad's job is even less flexible. Mayor Bloomberg is urging parents to try their best to get their children to school. This is easier said than done.
As a precaution, I told my supervisor what is happening and I may get permission to work from home. This means we will most likely keep Angel home during the course of the strike. Working from home sounds ideal but it will be tough. Imagine trying to concentrate while Super Why or Yo Gabba Gabba blares in the background and your five-year old is getting into everything possible. I will just have to make it work because if I do not work, I do not get paid. I am fortunate regardless because all parents do not have this option. I understand that as Angel's parents,  we will both have to make sacrifices.
I plan to ask his teacher to send materials for him to continue his school work at home and we can communicate via e-mail until this strike is over.
The down side to keeping Angel home is that he will miss out on valuable classroom time and social interaction. He will also miss his therapy sessions. Cordiello stated that only the mayor can put an end to this. In the mean time, I pray that a last minute deal can be reached. I know I am not alone. Lisa Quinones-Fontanez, a parent and blogger over at Autism Wonderland expressed what so many parents are feeling when she said, "The whole thing is sort of freaking me out. And I'm really hoping that all can be resolved between now and Wednesday."
To find out if your child's bus route will be affected by the strike, visit  the DOE link here.  I found that the easiest way to use this tool was to put in Angel's bus route number.
There are 7,000 bus routes affected by this strike. Is your child's bus route one of them? Please share your thoughts with us. We look forward to hearing from you.

Sincerely,
Miz Kp
P.S. This post also reflects the thoughts of Dad of Angel.
UPDATE: January 16th, 2013- The ATU Local 1181 school bus strike has officially started. 
Sign the Petition: End the NYC School Bus Strike Now!