We have come a long way since Brown v. Board of Education desegregated schools in 1954. Fifty-eight years later, the New York City Department of Education (DOE) is rolling out a special education reform policy that seeks to integrate special education students into the general education classroom.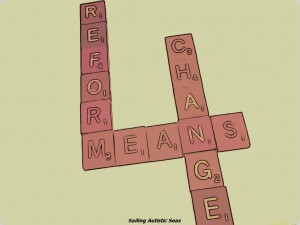 As a parent of a child with autism, I would love for Angel to learn with his mainstream peers. When I think of inclusion, I think of Angel in a mainstream classroom receiving a well-rounded education from well-trained teachers and related services from competent providers.
I think of him learning with peers who are sensitive to his disability and who will treat him with the respect and compassion that he deserves as a human being. I think of him in a school that is well-funded with adequate resources to meet his needs.
Based on what I have seen, our community schools are not fully prepared to provide this kind of inclusion environment to Angel and thousands of other special education students in our city. Maybe one day they will be but not now as Angel transitions into kindergarten this fall.
Last night, I attended a Citywide Council on Special Education meeting and came to the realization that the bureaucrats at the DOE have a long way to go before they can effectively roll out this reform.  When parents raised legitimate concerns at this meeting, it felt as if these officials were reading from a script. All we got were talking points. Most questions were answered with: "We are fully committed to the principles of this reform." "There is a  commitment from the leadership." and "Resources will be provided."
During the meeting, a council member asked Corrine Rello-Anselmi about the surplus of money left over from unfulfilled Related Services Authorizations (RSAs). Rello-Anselmi is the incoming Deputy Chancellor for the Division of Students with Disabilities and English Language Learners. Neither she nor outgoing Deputy Chancellor Laura Rodriguez was able to give more information about this surplus. I am thinking surplus? Really? We have a surplus when some children are going weeks without receiving related services? Unbelievable!
One parent of a high school student asked for the DOE to help implement a parent-to-parent and student-to-student buddy system. She articulated how helpful this will be and thought it should be a part of the special education reform. She was advised to organize one at her child's school. "You have to be the change." This was the response she got from council member, Jaye Bea Smalley. DOE officials echoed a similar sentiment. This parent is looking for support from a department that is supposed to put structures in place to implement these kinds of programs and she is being told to do it on her own.
Later, a member of the council asked DOE officials if they knew how many children with Individualized Education Programs (IEPs) needed occupational, physical, and speech therapies city wide. The DOE officials  "didn't have their paperwork on them," so in other words they had no clue. The member who is also a parent of a special education student raised concerns about the shortage of providers and asked how the DOE is planning to make sure that students get the related services they need this fall. All she got was another talking point about  "resources being provided."Other parents raised concerns about getting more information about the reform. They were told that a parent guide is being created.
Bryan Stromer, a special education student at NYC Lab High School also sits on the council. Stromer raised excellent points during the meeting. He shared his concerns about the need to teach general education students how to interact with special education students to prevent bullying. He also recommended a buddy system between special education and general education students.
He brought up the lack of resources in schools and shared the fact that he has received physical therapy (PT) on a stage.  Students in some schools get PT in the school hallway he added. What an embarrassment! With millions of dollars being thrown around, why are so many of our children receiving  services in less than ideal settings?
I left the meeting upset, I admit. Why? Because I feel like our general education community schools are not adequately prepared to serve special education students.  Yet, this reform is still being pushed. I left upset because this reform does not adequately address the lack of communication between departments within the DOE and between the DOE and parents. It has not adequately addressed how student's Individualized Education Programs (IEPs) will be developed to better meet their needs in the classroom.
Parents it is time for us to step up and become empowered. It is essential that you visit the following links to learn more details about the DOE's special education reform. Just as important is the ARISE Coalition's response to this reform because they speak for so many parents.
We have to learn all we can about the issues that affect our children. Remember that while these DOE bureaucrats pat themselves on the back for a job well done, our children could be left holding the short end of the stick.
What has been your experience with the DOE's special education reform roll out? If you live in another state, is your child in an inclusion program? How have inclusion initiatives worked out in your state?
I look forward to hearing from special education and general education parents on this issue.
Sincerely,
Miz Kp