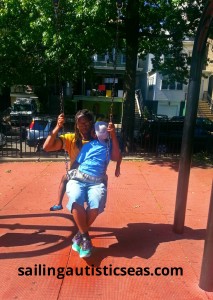 Parenting Angel is a joy and a blessing. I look forward to sharing my thoughts and actions, my successes and failures, and my goals.
Being a dad of an autistic child puts me in a unique category. At work and among my friends, I am the only parent of an autistic child. I am also the only person in my position at work who is a dad. Honestly, there are no other dads raising a child with autism who I can turn to.
When I walk outside with Angel, I am always on high alert regarding his safety and his possible interactions with others. The latter is interesting because I cannot always predict what his next move would be. It could be giving a stranger a hug, snatching an item from someone's hand, stepping on their foot, bumping into them, or running off into a corner where he cannot be seen or protected. I also have to be aware of people who may relate to Angel in a different way because of his disability.
Whenever there is a gathering of family or friends, Angel's safety and needs are my first priority before I can eat or engage in any leisure activities, such as playing a game or stepping outside. This is not to take away from what his wonderful mom can do, but as a male parent, my presence is VERY powerful. I love my son and my actions everyday show it.
Thanks for listening.
Dad of Angel