What do you do when you receive a set of Little Remedies New Parents' Survival Kits and your kid is no longer a baby? You pay it forward and give them away. The products included in each kit do not contain artificial flavors or colors, unnecessary additives, aspirin, ibuprofen, saccharin, or alcohol. This made me feel better about passing them on.
I remember how worried I was whenever Angel got sick as a baby. As new parents, we were frequent visitors to the ER. Whenever Angel's temperature hit 101 degrees, we would be on our way to get him checked out. I know that this kit would have been great to help relieve him of any fevers, stuffy nose, or achy tummy.
Each Little Remedies New Parents' Survival Kit includes a bottle of: 
Infant Fever/Pain Reliever
Decongestant Nose Drops
Gas Relief Drops
Gripe Water
Saline Spray/Drops
My first donation went to the Family Support Project for the Developmentally Disabled (FSPDD) and the Bronx Autism Society. The boxes were received by their Program Coordinating Manager, Monica Sanabria. The FSPDD and Bronx Autism Society provide "information, referral, and advocacy services for parents of children with developmental disabilities." Monica told me that she has a case load of 30 families and she knows that these kits would be a big help to those who received them.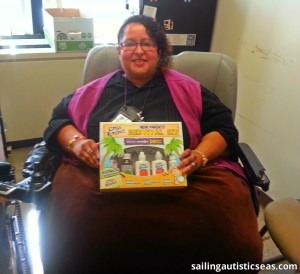 Next, I reached out to some parents in my support group, Bronx Parents Autism Support Circle. Here is what some of them had to say about how the Little Remedies New Parents' Survival Kit would help them: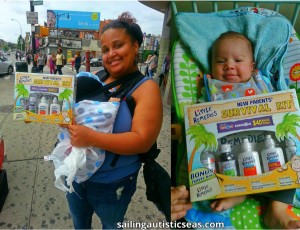 "The Little Remedies survival kit will be a great help for me because my son who is 2-months old is very sensitive to certain over the counter treatments. Little Remedies has everything I need to relieve the first signs of discomfort from tummy aches, fever, nasal congestion, cold, and or allergy symptoms. I enjoy using products that are gentle to my baby's body and Little Remedies is just that. All my children have benefited from the products and I will continue to use them and recommend them to other moms." – Angie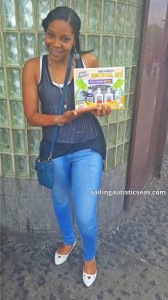 "Little Remedies Survival Kit is awesome, wish I had this the first day that my daughter was born!!! I love that there is no artificial anything in their products, and I feel better giving my child a pain reliever with no aspirin or ibuprofen. Thanks Little Remedies for making such an awesome product!!!" – Chantel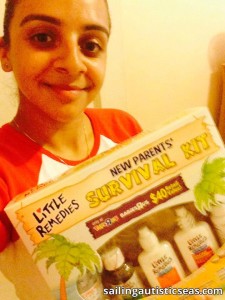 "This kit is great for little emergencies when the little ones are not feeling well. It is also great for on the go and takes out guessing on what to get when your newborn gets sick. I will be gifting this kit to a friend for her newborn daughter." – Grace 
You can visit the Little Remedies Web site for more information on the Little Remedies New Parents' Survival Kit.
Note: This is not a sponsored post. I decided to write this post because of the generous donation I received from Little Remedies. I wanted to highlight the special needs parents/organization that received them.
How do you help your little one cope with fevers, stuffy nose, and an achy tummy?  Please share in the comments. I look forward to hearing from you.
Sincerely,
Miz Kp