Angel had his school holiday respite intake yesterday. This is a Medicaid waiver service that is administered through the Office for People with Developmental Disabilities in New York. This program takes children between ages 6 and 13. It also follows the 12-month school program schedule, so they are open when children are on break. If accepted, Angel will be one of the youngest children in this program. Most of the children currently enrolled are between ages 11 and 12. The program's ratio is 3:1 (kids to adults).
As Angel bounced around the conference room during the intake, the supervisor (whom I will call "Tim") told his dad and I that he can already see that Angel would need individual support. I agreed with him. My child is busy. I can admit that. I am glad that there was a plastic bowling ball and pins to keep Angel busy. He had a good time lining them up on the conference table and having his own bowling match in the middle of the intake session.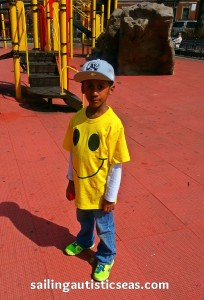 While "Tim" spoke, I wondered if Angel's hyperactivity meant that he was not eligible. Then "Tim" told us about this "wonderful" camp in upstate New York. "It is an overnight camp and each child is assigned their own counselor," he said.
Why is he telling me about a 10-day camp upstate when we were there for a respite program in the city? At that point, I stopped listening. Overnight? Me let my only child go all the way upstate by himself without a family member? I just could not fathom doing so and neither could Angel's dad. We both told "Tim" that Angel is too young. I asked him if parents could also stay at the camp and he smiled. Hey, I am willing to sweep the floors at this camp if it means that I can keep an eye on my son. Unfortunately parents can't stay there!
Then "Tim" told us that there is a support group for "first-time terrified parents" who send their children to this camp. This made me laugh but it also made me realize that my fears are quite normal. Maybe we will revisit the idea when Angel is a tween or teen but not right now.
I know that at some point we will have to let go. Even if Angel ends up needing to live with us as an adult, then I still want to know that we did all we could to equip him with the adaptive skills needed to be more independent. I do not want my hang ups and paranoia to hinder his growth. We need to prepare him now because the reality is we will not be around forever to shelter him. Easier said than done, I know.
So where does all of this leave Angel with the program right here in the city? "Tim" told us that he will not rule Angel out. He will give him a chance on a probationary period as he does with every child who starts the program. I also told "Tim" that we will like to tour of the location as well. He said sure.
Here are some highlights of the school holiday respite program:
Round-trip transportation with a matron (Eight children are assigned per route.)
Breakfast and snacks
Lots of fun activities
Now all of this is no guarantee that Angel will get a spot. This agency gets 20 referrals a month so there is a space issue. We shall see how it goes.
Read more about our Medicaid Waiver process by clicking on the bulleted sentence below:
FYI: If you are approved, your letter will say your application was "accepted" but this means the same as "approved."
What has the respite process been like for you? What are your thoughts on letting go to let your child be more independent? Share your thoughts in the comments. I look forward to hearing from you.
Sincerely,
Miz Kp