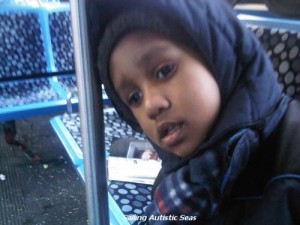 Imagine needing a social story to guide you on a date. For people on the autism spectrum, this may be their reality because social impairments are a characteristic of this disability.
In case you have no idea what a social story is, Carol Gray of The Gray Center in Michigan developed this concept in 1991. According to The Gray Center, social stories "describe a situation, skill, or concept in terms of relevant social cues, perspectives, and common responses in a specifically defined style and format." In other words, they give people with autism a play-by-play guide on how to behave in social situations. These situations can include standing in line to buy tickets to a movie or going on a date with someone.
As a mom of a four-year old on the autism spectrum, I certainly did not think that I needed to learn how to handle "the talk" at this time. Then, I heard that the Resources for Children with Special Needs  (RCSN) in New York City was having a symposium on Friendship, Dating, Sexuality, and Disability last Wednesday.  I just had to attend.
Panelists at the symposium included: Dr. Michelle S. Ballan from Columbia University School of Social Work, Dr. Chris Rosa from the City University of New York (CUNY) and Brian Schwanwede, a sophomore at Fairleigh Dickinson University who has *Aspergers syndrome.
The experience was informative and enlightening. I was able to gain some insight into some of the issues that Angel may face as he becomes a young man. During the symposium, I wondered if many parents can honestly say that they know how to discuss sexuality with their child who has a disability. I am sure it is not easy for parents of typically-developing children.
According to Dr. Ballan, parents of children with autism may
have uncertainty regarding their adolescents' need for information about sex.
feel uneasy about the sexual future of their adolescent children.
believe that knowledge of sex equals desire.
believe that their children won't be getting married, so there is no
need to teach them about sex.
Then, Dr. Rosa pointed out the mainstream view that there is a pervasive sense of asexuality in people with disabilities. He also added that this perception includes the idea that sexuality is not relevant in the lives of this demographic. I believe that a person's disability does not automatically exclude them from wanting friends or having desires and feelings for another person.
So how can we adequately prepare our children with disabilities for a sexual world?  Some may say why are you thinking about this now, your child is too young. I rather think about it now than wait until he is a teenager and his hormones start raging. Please keep in mind that for people with disabilities like autism, physical maturity may happen at a faster rate than cognitive development.
As Dr. Ballan stated, we have to teach our children:
the difference between making a choice and responding to a demand
learning when it is okay to say "No"
how to build self-protection skills to guard against sexual exploitation
ways to develop self-respect and self-esteem
how to understand social cues
modesty
As I listened to the panelists, I thought about what we will tell Angel the day he tells us he likes someone. What will we do when he has urges that he does not understand or that he wants to act on? How will we explain being safe and how to protect himself?
When Brian Schwanwede spoke, I began to wonder even more what Angel's life would be like as a young adult. Schwanwede said he often finds himself analyzing every possible outcome in social situations and refuses to be governed by impulse. He has only been on one date.
I have no idea how Angel will decide to deal with others in social situations. Will he get out there and try things or will he always be guarded? My hope and dream for Angel is that when he falls in love the other person will realize that although autism is a part of who he is, it does not define who he is.
Have you discussed sex with your child? Does your child have a disability? If so, how did this impact your talk? Please share your child's age in your comments.
Remember to visit the RCSN Web site for Dr. Ballan's resource list and an article on this topic by Dr. Rosa. (http://www.resourcesnyc.org/book-list-and-article-chris-rosa)
Sincerely,
Miz Kp
 *According to Web MD, Aspergers syndrome is found on the higher end of the autism spectrum. People with this disorder "generally have normal intelligence and near-normal language development, although they may develop problems communicating as they get older."