(I am pleased to share this guest post with you by my good friend, NicksMommy, who is also a mom raising a son with autism. – Miz Kp)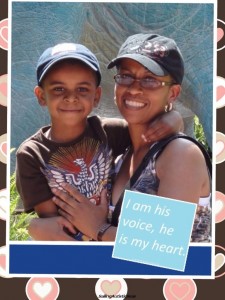 by NicksMommy
Five and a half years ago,  something fabulous happened that changed me forever – I became a mom to a wonderful little bundle of joy – my little man, Nick.  He definitely stood out from the rest of the babies born that day, weighing in at 9 pounds 11 ounces, 22 ½ inches, he was a big one.  He still stands out from the rest of the kids – he's as tall as a seven year old, big brown eyes with long Hollywood style lashes and a smile that melts my heart.  Nick is also part of a unique club where only 1 in 88 is a member – he was diagnosed with autism three years ago.
My relationship with my son's father ended during my fourth month of pregnancy. It was a very difficult decision that I have never regretted. Having friends and relatives who raised their children as single parents, I never assumed it would be easy and I expected to be challenged, but I loved my son from the moment that test said "positive." I was confident in my ability to provide for him.
Coming from a very close-knit family, I had a wonderful support system including my parents and my sister.  Because I was thirty-seven, my doctor scheduled an amniocentesis and the night before the exam I said to my sister, "I'm too old to be having a baby – what if there's something wrong with the baby?"  Her reply was, "So what, we're all here to take care of him."  I loved being pregnant!  Nothing bothered me – I didn't care about the weight gain, I enjoyed every meal, no morning sickness.  When Nick kicked it made me smile – I was one happy mother-to-be!
When Nick was about to turn two, I noticed a few things that worried me: he was not speaking, he was lining up his toys and he would constantly lick his hand like a cat.  Six months later, he was diagnosed with PDD-NOS – Autism.
The first few weeks were the hardest for me both emotionally and physically.  When his home-based intervention started, I took mornings off just to be there with him and then rushed to get to the office.  It was completely overwhelming and at the end of the day, I still felt like I was not doing enough to get him the services he needed.  My sister offered to help but I wanted to be involved in every aspect of his treatment.  For some reason, I felt it was my obligation – I was his mother.  My whole existence revolved around my son.
After a few months, feeling completely rundown I visited my doctor and found out I was anemic and had a heart murmur.  Even though it was not a death sentence, I realized that if I continued this way, it could become something debilitating and what good would I be to my son.  As much as I wanted to do everything myself, I had to give up some control and let others help me.  I just could not do everything myself, especially when I had a wonderful family that was willing to do whatever it took to help me and my baby.
Letting my sister and parents take on some of the responsibilities has worked out wonderfully.  My sister joined the Parent Support Group at Nick's preschool and she takes Nick to some of his doctor appointments, leaving me the task of attending all his IEP meetings and teacher conferences.  A few nights a month, I am able to attend information seminars and my parent support group without having to worry about rushing home because my son is in safe hands with his auntie.  When I just need a break to regroup, my mom takes Nick for a walk or to the park while I read a book or grab a quick lunch with a friend.  Just a few weeks ago, while I participated in my first autism awareness walk, Nick spent the day with his grandparents and had a blast.
Asking for help when I need it does not make me less of a mother – it actually makes me a better parent. Being the parent of a special- needs child is a big challenge, one that requires lots of time and energy and our children depend on us to be their voice.  I know that there are some single parents out there doing it all by themselves – I salute them!   I wonder how they do it all.  Nick and I have been very blessed- we have a wonderful team of people who would do anything for us.   I love my family and I don't know where I would be without them!