Angel is an only child, so we make an extra effort to expose him to activities that allow him to socialize and interact with his peers. I admit that it took me a while to learn and accept that activities meant for typically-developing children were not a right fit for Angel. I am all for inclusion but Angel is just not there yet.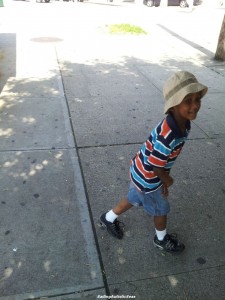 When Angel turned three, I signed him up for Musical Play Date at ABC-DO-RE-ME. I figured, it is a music class. Angel likes music. Now, we have something to do on Saturdays.
I remember the three of us (mommy, daddy, and Angel) walking into this little room with a piano. As the class began, the instructor gave everyone (big and small) a musical instrument. Angel seemed interested at first but soon he was skipping around the room yelling: WEEEEEEEEEEEEEEEEEEEEEEE! We barely made it through that class. Of course, we got the glares and the stares.  I could not wait for the class to be over. This was clearly not the right environment for Angel.
I did not want to bring him back to that class but we had already paid for a ten-class package. Our dilemma began. We decided to take him back for a second class. You know, to give it one more try. As predicted, Angel gave everyone a repeat performance.
As a result, we decided to forfeit the rest of the package. There was no way we could get a refund of our balance because the refund period had already passed. Oh well! I prefer peace of mind over trying to get a bang for my buck.
During this time, I had no idea that there were classes designed for children with special needs. (Angel had not been diagnosed yet.) Angel needed a class with instructors who understand his behaviors and can provide the appropriate support.
After Angel was diagnosed with autism, I started to network with parents of children with special needs. Through networking, I became aware of activities that catered to children with various disabilities. Now, I always keep an eye out for the following key words when looking for an activity for Angel:  autism, special needs, access, disabilities, and developmental delays.

Finally, I can take Angel to events and classes with instructors and therapists trained to deal with his behaviors and sensory-seeking issues.

A few months ago, we decided to take Angel to Kicking the Spectrum for a martial arts class trial. Kicking the Spectrum is a "martial-arts inspired program for children with special needs."  The program is run by David Rosenberg who is a martial arts instructor and Stephanie Rosenberg who is an Applied Behavioral Analysis therapist. I felt like we had hit the jackpot.
When we arrived for Angel's trial lesson, he was in serious attention-seeking mode. Angel's first task was to stand on a yellow circle in the middle of the gym floor. David and Stephanie spent 90% of the trial trying to redirect Angel, so he could focus. I must say they were extremely patient while I was on edge the entire time.
I was praying that Angel would follow their directions, so he could get into the class. At the end of the trial, Angel finally stood on the yellow circle. We all clapped and told him, "GOOD JOB!"
Before we left, David and Stephanie asked us to bring Angel back for another trial. Once again, he was all over the place and did not follow instructions. They suggested that we bring Angel back in a few months to try again. In other words, it was not a good fit for Angel at this stage of his development.
We are still on a mission to find a weekend activity for Angel that can help him enhance his development and reach his developmental goals.
So far, I have found Asphalt Green, which has a swim program for children with special needs. I also have Angel on the waiting list at the Daniel Music Foundation. He has been on their waiting list since last fall because the Saturday slots are harder to get into. Then, there is therapeutic horse riding at Flying Mane. Flying Mane also has a waiting list but I am working on Angel's application anyway.
Our goal is to keep trying until we find an activity that Angel enjoys and one that he can benefit from. In the end, everything has to click.
What process do you go through to find extra curricular activities for your child?  If you know of any activities for children with special needs, please share as well. I look forward to hearing from you.
Sincerely,
MizKp