Ah yes! Here we are at the beginning of a new year. See ya 2013! We had a good ride. As we welcome, 2014, I need to pause and reflect on some of the events that made us break out the pom poms for Angel in 2013.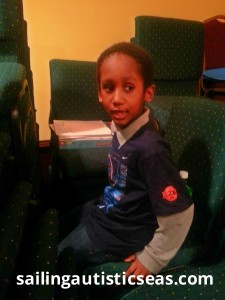 1. Angel started expressing more empathy for others.
2. Angel's hyperactivity calmed down… a little and even though he still requires some re-direction, we will continue to work with him.
3. Angel was deemed eligible by the Office of People with Developmental Disabilities to receive services. The path to the medicaid waiver has been a long one but we are on our way.
4. Angel celebrated his sixth birthday.
5. Angel"s school is not graded but I will just claim it and say he is in the first grade.
6. Angel continues to thrive in his school and I will continue to work with our IEP team to make sure he is getting everything that he needs.
7. Angel started going to school with NO PULL UPS. In fact, he only needs pull ups for very long trips and at bed time.
8. Angel's communication is improving. He is recognizing sight words in sentences and this has been helping him in the early stages of reading.
9. Angel increased the number of words in his vocabulary.
10. Angel is still very affectionate and he showered us with hugs and kisses all year long.
I look forward to an even longer list as we go through 2014. Happy New Year!
What made you say YAY! in 2013 for your child? Please share. I look forward to hearing from you.
Sincerely,
Miz Kp